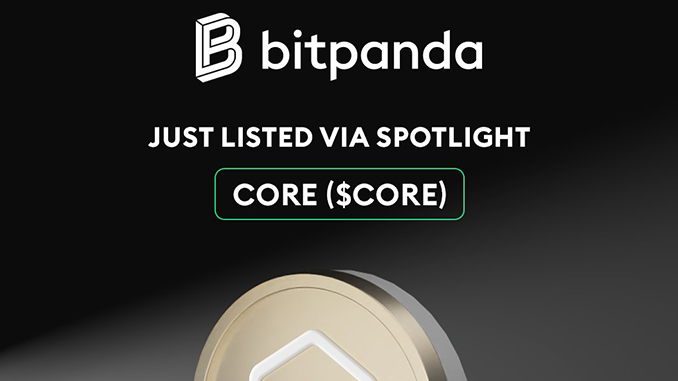 Bitpanda is getting serious with its new Spotlight program, which is intended to provide a stage for young cryptocurrencies. After the IOTA side project Shimmer (SMR), Core DAO (CORE) has now been freshly listed.
Bitpanda is expanding its crypto division in 2023 with a focus on young coins that are still little known. To this end, the Spotlight program was launched in early March, which grants loyal Bitpanda customers an additional bonus. The concept experienced its first practical test on Tuesday with the relisting of Shimmer (SMR) and the IOTA side project did well. Just two days later, yesterday (Thursday), Bitpanda has now sent another cryptocurrency, Core DAO (CORE), freshly onto the exchange stage via its Spotlight program.
CORE has its own blockchain, which is innovatively constructed as a Layer 1 solution, according to its self-description. Core DAO has integrated the EVM (Ethereum Virtual Machine) for organizing smart contracts and DApps. A mix of Proof-of-Stake (PoS) and Proof-of-Work (PoW) protocols are used to validate transactions. As a result, CORE expects to combine pluses of Bitcoin (BTC) and Ethereum (ETH) in one blockchain. Core Dao's mainnet was launched in mid-January and CORE has been trading on some crypto exchanges since February. With Bitpanda, CORE now gets a trading venue where it is calculated in euros instead of US dollars.
However, the first day of trading for Core DAO on Bitpanda was sobering, with CORE sliding more than 12 percent into the red, as it did in trading against the US dollar, albeit in a generally depressed overall market. CORE did not experience a temporary positive effect, as Shimmer did with Bitpanda. Data services such as CoinMarketCap see Core Dao with a market capitalization of just under 150 million US dollars in a place around the 200 between the largest global cryptocurrencies. What should make investors skeptical is that only 3 percent of all CORE is in circulation.
Bottom line: Bitpanda with Shimmer and CORE – Spotlight debuts mixed.
During the new trade with SMR, high fees of 6 percent in the Bitpanda Spotlight program were unpleasantly noticeable, and the current debut of CORE was disappointing, at least in terms of price. Spotlight is still far from the attraction that Binance Launchpad and Launchpool have developed for new cryptocurrencies. Nevertheless, one can remain curious about which new listings will follow at Bitpanda.