Currently, there is a lot of advertising on the Internet for so-called Bitcoin Trading Bots. The idea here is that investors simply deposit money and an algorithm trades independently with the balance. By trading the crypto robot the user is supposed to earn money. Again and again there is talk of profits of over 1,000 euros and more a day. Especially companies such as Bitcoin Profit, Bitcoin Code and Bitcoin Revolution want to win new users by promising big profits.
Just how big this market is becomes clear when you enter Bitcoin in Google and the second word is suggested. As you can see there are many suggestions directly for these trading robots. So there is a very high search volume for them.
The services are often advertised with famous people like Bill Gates, Richard Branson or shows like "The Lion's Den", where the trading robots are said to have convinced the jury. As you probably already guessed correctly, none of this was true.
Nevertheless, we took a look at whether these services really work and tested them. For this we signed up and made the minimum deposit. If it really worked we want to present you now in the tests of the individual services in detail.
But one thing we would like to tell you in advance. The services don't only scare you off with their dubious promises, but also don't deliver what they promise. In most cases it would have been better to just buy Bitcoins. If you still want to risk a little more you should sign up with eToro and as the portfolios of successful crypto traders copy or follow. You'll see exactly how much profit or loss the respective traders have made with them in the last 12 months. This is 100 times more serious than any wild promises from questionable sites on the internet.
The Makers behind these Bots
As we found out in our test, the makers of these trading bots are often the same. The start pages of the respective services differ, but are always similarly structured. But once you log in you will find that the dashboard is 1:1 the same. Here you can see for example the dashboard of Bitcoin Profit and Bitcoin Code.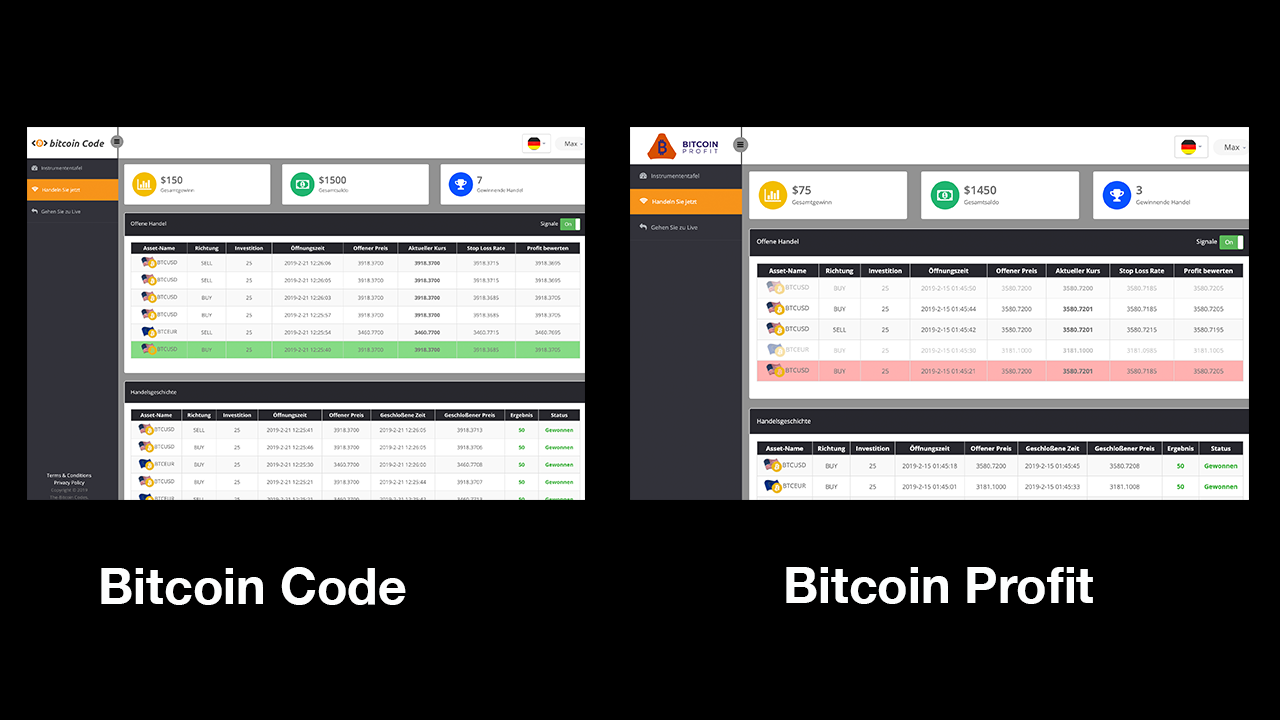 As you can see, only the logo in the upper left corner was changed. In addition, the two services then also forward to different CFD providers. The interesting thing is that Bitcoin code will forward you to a provider that does not allow trading with Bitcoins at all. Obviously a network of different services was built up to attract new users. So you shouldn't be surprised if in the future there will be more and more new providers on the market. Often the existing platforms are just slightly changed and rebuilt under a new name.
Conclusion
The test showed that the trading robots do not work. Often they are only used to make users log in to different CFD (Contracts for Difference) providers. As has been shown, services such as Bitcoin Code or Bitcoin Revolution also frequently change CFD providers. Ultimately, the providers are nothing more than a different interface to a particular CFD partner.
How the whole probably runs is like this. The Bitcoin Trading Robot provider looks for a CFD trading platform as a partner. From this trading platform the provider receives a sum of X per new customer (often over 800 US dollars). People who then register with the Bitcoin Trading Robot Provider become customers of the CFD Provider. There is then a small script on the platform that trades for the customer. However, the scripts (algorithms) are usually so bad that the investors lose their money.
With many providers, we have NOT found a user who has made money with the platform or got his money back. For CFD providers, the business is so profitable because they do not sell real Bitcoins, but only contracts that are linked to the price of Bitcoins. Investors can then trade these with leverage. Many of them realize only too late that with a leverage of 1:10 they lose their entire balance if the price falls by only 10%, which can happen quickly with Bitcoin and other crypto currencies. The entire credit goes then to the CFD provider.

Those who really want to invest in crypto currencies should buy real Bitcoins from eToro and leave them lying around. When this article was written the Bitcoin exchange rate was 3.200 Euro. So here you can take a look at how the course has developed since then. If you want to take a little more risk you can follow real traders and copy their trades at eToro. There you can also see how much profit they have made in the last 12 months.