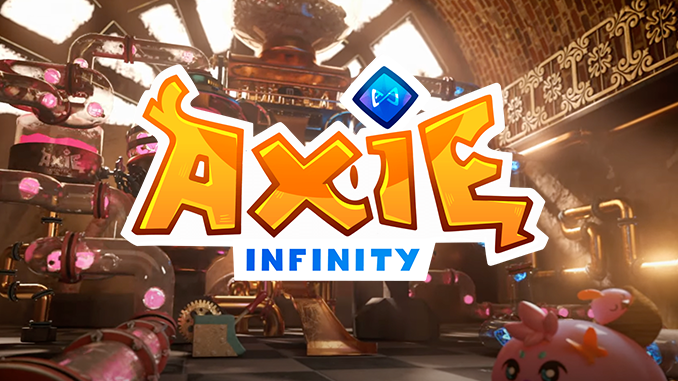 Axie Infinity (AXS) is making a splash as a successful blockchain game. Now it is also launching its own decentralized crypto exchange under this umbrella, called Katana.
For months, the price curve of Axie Infinity (AXS) has reflected how the blockchain game, which is partly based on Pokemon, is growing rapidly in 2021. As recently as the spring, AXS was trading at $5; it is now $150. An important factor in this success was the launch of an Ethereum sidechain called Ronin in the summer, which players can use to deploy their AXS quickly and at low fees. Now, Axie Infinity's developers are using the Ronin sidechain for another feature, its own decentralized crypto exchange (DEX) Katana. Katana went live yesterday (Thursday), as a post on Twitter proudly proclaimed.
The news of Katana sent AXS up about 10 percent, and the second token used in the game, Smooth Love Potion (SLP), even temporarily jumped in price by a good 70 percent. The reason for this is easy to explain: Via DEX Katana, another proprietary token called RON is also to be distributed as a reward in the next 90 days via farming, if liquidity is deposited. This applies there to the two pools of AXS and SLP to Ethereum (ETH). Katana has thus already attracted a good 160 million US dollars in liquidity in just over 24 hours, as the data shows.
How Axie Infinity expands to the ecosystem
That a DEX distributes its own coin at launch as an incentive to attract liquidity has been proven since SushiSwap (SUSHI), which first implemented this concept in late summer 2020. A blog post by Axie Infinity explains that RON is intended as a native token for the Ronin Chain and will initially serve as a future means of payment for fees there. Thus, RON should also develop a monetary value once RON is freely tradable. Katana as DEX, in turn, currently lists the stablecoin USD Coin (USDC) in addition to AXS, ETH and SLP.
The developer studio Sky Mavis is behind Axie Infinity and Katana. They are working on keeping the game attractive with new features. But other game ideas are already being forged, and it is probably only a matter of time before other blockchain games make their debut via Ronin, presumably with their own tokens again. Thus, Katana would become the exchange where players stock up on coins or exchange them. Plus Pool Rewards and Staking as services to generate passive income. Axie Infinity's Katana could, of course, also open up to coins from third-party blockchain games. In short, for now, Katana with RON marks Axie Infinity's move to expand and round out its own ecosystem with the possibility of broadening Katana in the medium term.
Conclusion: Axie Infinity with logical further development
Combined, Axie Infinity and Smooth Love Potion currently come to around $10 billion in market capitalization and Katana with RON is the impetus to keep that capital under one roof and enable expansion with it. Early data shows that this concept could work. Axie Infinity thus backs up its claim that it is not a single blockchain game at risk of being slowly forgotten after hype. The chances that the blockchain games sector has in general were recently shown by price jumps for Decentraland (MANA) and Sandbox (SAND) in response to the announcement of Facebook Metaverse.
---
You can buy Axie Infinity on Binance. Open a Binance Account here and save 10% on fees for a lifetime.