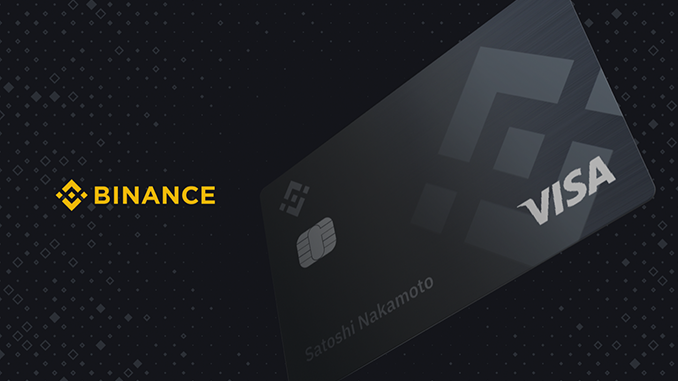 Crypto credit cards have been a rarity until now, but now the world's largest crypto exchange Binance is entering the business sector. The forthcoming Binance Card should make it possible to pay directly with Bitcoin (BTC) and Binance Coin (BNB).
The number of people who hold large portions of their assets in crypto-currencies is rising steadily. At the same time, there is a growing need to access these assets easily by credit card in everyday life. Binance has now also recognised this and presents its concept of a Binance Card in a blog post. This puts the company at least partly in direct competition with the previous providers of crypto credit cards, in particular TenX, Coinbase and Crypto.com.
Background on the Binance credit card
Binance advertises with the motto "Shop and pay with crypto all over the world". The Binance Card will be a Visa card, which guarantees acceptance at more than 46 million outlets in around 200 countries and regions around the globe. The Binance Card will be linked directly to the Binance account via an extra app. Since it functions as a debit card, deposits are necessary. These can be made at the start via Bitcoin (BTC) or the Binance Coin (NBB). If the merchant or service provider accepts one of these two crypto-currencies, payments are settled directly in this currency. Otherwise an exchange to Fiat takes place in the background, enabling full functionality. The cost of the Binance Card is a one-off payment of USD 15, which must be deposited in the form of BTC or NBB. Binance will not charge monthly or annual fees.
According to the crypto exchange, a beta version of the Binance Card is already being tested and the issue of a virtual Binance Card will begin shortly in Malaysia, followed by Vietnam and other countries. It is not yet known when it will be Germany's turn. The Binance Card App as the core component is also still unpublished. However, interested parties could already register on this specially set up website.
Binance Card vs. TenX, Coinbase and Co – Who will win?
Until further details of the fee policy for the Binance Card are known, no clear verdict can be reached on which crypto-credit card will be the most attractive overall package in 2020. What is clear, however, is that the Binance Card with its functions as a genuine crypto-credit card stands out from the Coinbase Card, which converts all payments to Fiat at high fees. TenX, in turn, as a competitor, supports a wider range of crypto currencies for direct payments with BTC, Ehereum (ETH) and Litecoin (LTC). Binance, however, will be fairly certain that the Binance Card will be a success, as there are now a mid-double-digit million existing customers for whom the offer should be of interest.
---