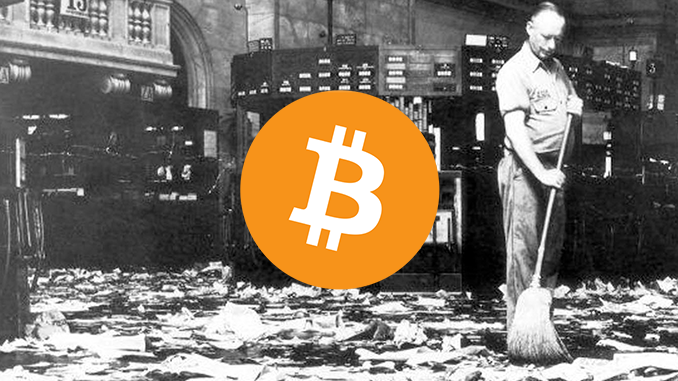 The price of Bitcoin (BTC) has fallen below the USD 8,000 mark. Experts believe the reason for the drop in price is that approximately 13,000 BTC from the booty of the exit scam were sold at PlusToken, thus influencing the price. The price losses on the classic stock exchanges also played a role.
In August 2019, the news spread that the Chinese crypto platform PlusToken had experienced a massive exit spam with loot equivalent to more than 2 billion US dollars. It is now clear that even those who were not among the directly injured are suffering the consequences of PlusToken's fraudulent practices. The Twitter account Ergo, which focuses on PlusToken transactions, has discovered that massive amounts of coins were recently sent to the Bitcoin Mixer from the BTC addresses allocated by PlusToken and then put up for sale. We are talking about 13,000 BTCs worth around 210 million US dollars, which flooded the market and thus depressed the price.
~13k in new PlusToken mixer deposits in last 24 hrs.

Almost all previous mixer deposit change has entered mixing, confirming my theory.

Distributions still on/off. Much slower than September and November.

New report and full sit rep imminent. pic.twitter.com/vwrBuVk272

— Ergo ∴TxIDs Or It Didn't Happen∴ (@ErgoBTC) March 6, 2020
PlusToken and the price of BTC
As early as December 2019, the experts at Chainalasys had described in a lengthy blog post how PlusToken could proceed to turn its loot into cash. By using Bitcoin mixers, the robbers can "wash" their BTCs to such an extent that they are admitted for trading on the major crypto exchanges. There, if necessary, they can sell their Bitcoin at competitive prices and probably get paid off by Fiat. Chainalasys has also already observed how the intermittent sales have a direct negative impact on the price of BTC. This pattern seems to be repeated now, one speaks of a "giant whale", which always acts when the price of BTC shows some recovery.
Other factors also put pressure on Bitcoin's price
The fact is that yesterday, Monday, BTC lost around ten percent within 24 hours and is currently trading below the psychologically important mark of 8,000 US dollars. However, there are also reasons to blame not only PlusToken for this. At the beginning of the week, stock exchanges around the world experienced a "black Monday" with record losses, and fears of a global economic crisis caused by the corona virus and an oil price war between Russia and Saudi Arabia are the driving forces behind this. In the past, it has repeatedly been shown that BTC's share price does not develop in isolation from the global news situation. In this mixed situation, it is important for you as an investor to watch out whether the decline in Bitcoin's price continues or whether a clear support line forms.
---