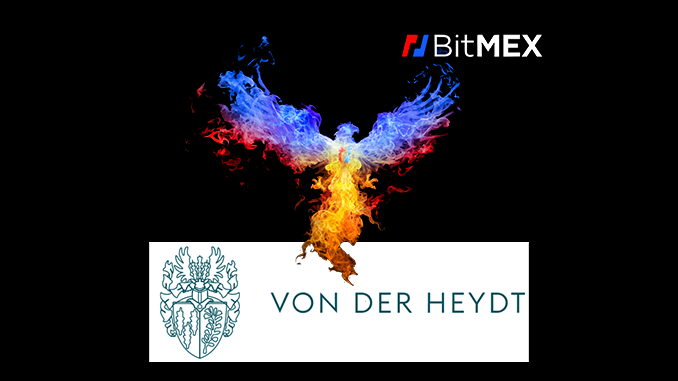 Crypto exchange BitMEX is buying – subject to regulatory approval – German banking house von der Heydt, which has existed since 1754. With this move, BitMEX aims to advance its legal expansion in Europe.
Crypto exchange BitMEX is increasingly developing a fresh profile under its German CEO Alexander Höptner. The latest step: Bankhaus von der Heydt, headquartered in Munich, is to be acquired by BitMEX. A corresponding agreement with Dietrich von Boetticher as owner of the private bank has been signed, according to a BitMEX statement. Permission from the German Federal Financial Supervisory Authority (BaFin) is expected soon and the takeover will then be completed by the middle of the year, BitMEX writes further. The parties have agreed not to disclose the purchase price. Bankhaus von der Heydt was founded back in 1754, holds a full license in Germany and has already established its own crypto department in recent years.
BitMEX CEO Höptner, who has been in office since January 2021, expects the duo to create a "powerhouse" for regulated crypto products in the heart of Europe with Bankhaus von der Heydt. Höptner is expected to join the supervisory board at von der Heydt, as is BitMEX chief financial officer Stephan Lutz. However, the bank will continue to exist under its old name and as an independent company, he said. Crypto exchanges such as BitMEX often have great problems attracting traditional banks as partners, and not only in Germany. However, these are urgently needed, for example, when euros or other fiat currencies are to be paid in and out of crypto exchanges. BitMEX had most recently announced support for euros for Q2 2022, but so far only Bitcoin (BTC) and the stablecoin Tether (USDT) are intended as base currencies for customers there.
Under CEO Höptner, BitMEX finds new momentum
Höptner came to BitMEX from the Stuttgart stock exchange. Largely without any noise, he managed to lead BitMEX back into calm waters. The former leadership of the crypto exchange is accused in the U.S. of money laundering, bribery and disregard for banking laws, among other things. BitMEX was able to settle legal issues by paying a $100 million fine, and Höptner and Lutz's predecessors are due in court this spring. Höptner, however, is focused on making BitMEX more attractive again.
For example, the launch of its own discount token called BMEX is imminent, and BitMEX is also partially reorganizing its crypto futures business. BitMEX was a pioneer in this line of business after its founding in 2014 and was the market leader for a long time. Höptner also sees potential here for BitMEX to shine as a regulated contact point for German-speaking customers. A subsidiary called BitMEX Link has already been founded in Switzerland, and the acquisition of von der Heydt Bank is expected to complete the package. Among other things, the bank is already responsible for a euro-based stablecoin for business-to-business and came in for test runs by the Bundesbank for the use of blockchain technology. Bankhaus von der Heydt has so far bundled its cooperations with the crypto industry under the title "Digital Banking", which also includes legal custody of crypto assets.
Conclusion: BitMEX with powerful momentum into 2022
Anyone who had already written off BitMEX due to financial scandals, innovation backlogs and lost market share will probably have to rethink their position. With Höptner, BitMEX regains confidence and expands its portfolio sensibly at a fast pace. The acquisition of Bankhaus von der Heydt not only symbolizes respectability, more than 260 years of existence of the bank speak for themselves. BitMEX also takes over here traditionally resilient relationships of the bank with regulators and know-how for Bitcoin and Co. in regulated environments. We think: These are good reasons for German customers to consider BitMEX as their preferred trading platform again.