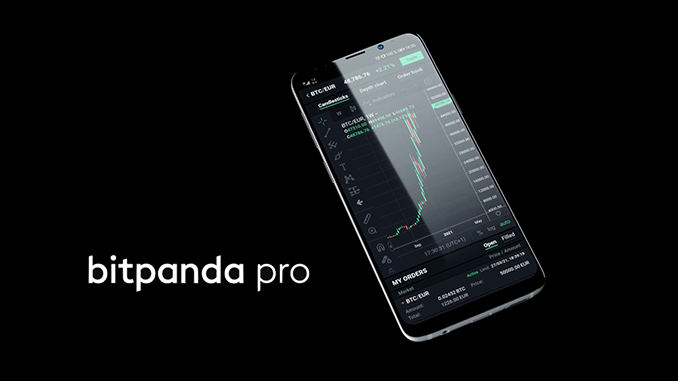 The neobroker Bitpanda wants to separate the Pro platform for cryptocurrencies from its other trading venues as of June 27. This is relevant for customers who trade Bitcoin and Co. there.
Bitpanda has made a good name for itself as a fintech with a billion-dollar valuation from its headquarters in Austria throughout Europe. Now, as part of an expansion of Bitpanda's crypto division, the Pro platform is being separated from other businesses, according to an email to customers that we have. "Exciting news" is coming soon to Bitpanda Pro, it says, hinting at listing more cryptocurrencies there, among other things. But first, the attention of customers is asked before and on June 27, when the spin-off will be technically completed.
Until now, it has been possible to move Bitcoin and Co. at Bitpanda between Pro and Classic accounts at the click of a mouse. This possibility will no longer exist after June 26 (Monday), writes Bitpanda. From June 27, such transfers will no longer be possible through "Bitpanda internal transfers," but a transaction via the respective blockchain of the selected cryptocurrency will be necessary, it says. Since transaction fees for Ethereum (ETH), for example, are often uncomfortably high, it is recommended that customers make decisions now.
On Tuesday (June 27) from 17:00 German time, you will have to prepare for restrictions at Bitpanda. This is because Bitpanda Pro will temporarily suspend deposits and withdrawals for a maintenance window. Please also keep in mind that new addresses should be created when depositing crypto at Bitpanda Pro from June 27, as otherwise long delays can occur in the allocation, as the email to customers warns. After all, Bitpanda Pro wants to charge no more fees for this in return when depositing cryptocurrencies from June 27.
Conclusion: Bitpanda Pro becomes more independent – spin-off planned?
The US crypto exchange Coinbase merged its Pro and Classic platforms more closely in the fall of 2022. Bitpanda is now taking the opposite approach. Whether the clear demarcation of Bitpanda Pro from the normal trading platform also has regulatory backgrounds is not entirely clear. Those who focus on cryptocurrencies as a Bitpanda customer will mostly use the Pro platform. In this case, it is worth reading the notices in the app or in the email inbox now in order to avoid paying unnecessary fees or experiencing other difficulties after June 26.
---