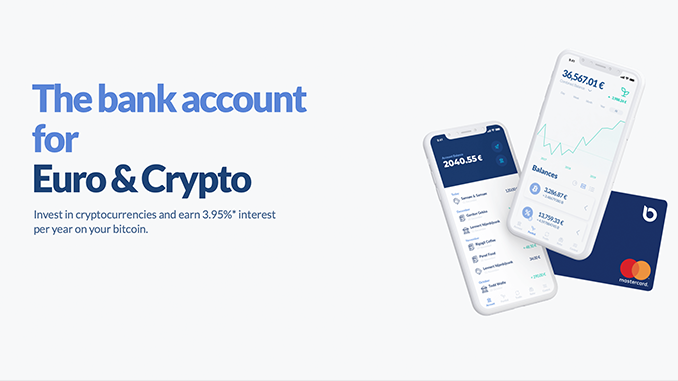 The Berlin-registered financial company Bitwala enters into the business of paying interest on balances in Bitcoin (BTC). Those who park their BTCs there can currently expect 3.95 percent annual interest. The offer is being implemented in cooperation with Celsius Network.
We have already reported on the topic of "Earning interest with crypto currencies" on several occasions, and the business division is developing into a growth market in the crypto sector. Now with Bitwala from Berlin also a German enterprise puts on an appropriate offer. There is attractive 3.95 per cent accepted annual interest with Bitwala (de/) up-to-date for inserts in Bitcoin (BTC). The interest is paid weekly, calculated hourly. Customers can also withdraw their BTCs at any time and have them paid out in euros. In the EU, Bitwala cooperates with Solarisbank as its banking partner, and for the interest rate offer it has teamed up with Celsius Network from the UK.
How you earn interest with BTC at Bitwala
Bitwala promotes itself as a focal point for "crypto-friendly banking" and now has more than 80,000 customers in the EU. You can have a Euro account with Bitwala as well as accounts with BTC and Ethereum (ETH). Interest is currently only offered for Bitcoin. The BTC must be transferred to a so-called income account with Bitwala. This is done via the app with just a few clicks. The projected annual interest rate can change and is reset weekly. Interest income is credited to the income account in BTC. Bitwala does not charge any fees for its interest offer, only the usual network fees are charged when depositing BTC.
Celsius Network is one of the largest market participants in the field of crypto loans and manages loans worth the equivalent of more than USD 6 billion. Borrowers at Celsius Network are institutional clients, and the volume is also "over-insured" by about 150 percent to reduce risk. Even if crypto transactions in the EU are not covered by deposit insurance – the combination of Bitwala, Solarisbank and Celsius Network promises serious action.
Should I invest my Bitcoin with Bitwala?
In international comparison, the 3.95 percent annual interest rate for BTC through Bitwala is rather moderately exciting. BlockFi, which is financed by many serious investors, currently has 6% interest, Binance currently offers less than 1%, and Celsius Network itself currently only offers 4.03%. Ultimately, everyone has to decide for themselves which provider they trust.
---
Best place to buy Bitcoin: