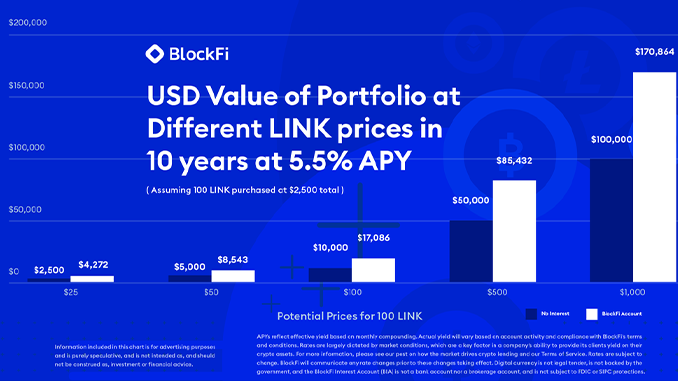 Crypto financial services provider BlockFi is now accepting deposits in Chainlink (LINK) and Binance USD (BUSD). For LINK, 5.5 percent annual interest rate is targeted, while 8.6 percent is expected for BUSD.
Financial transactions with loans based on cryptocurrencies are a growth market and one of the largest providers in this line of business is the US company BlockFi. Now BlockFi is expanding the range of altcoins it accepts to include Chainlink (LINK) and the stablecoin Binance USD (BUSD). For LINK, which is deposited, BlockFi is now offering 5.5 percent APR, according to the blog post. For BUSD, BlockFi is even offering 8.6 percent annual interest. With these interest rates, BlockFi is currently very well positioned for Binance USD compared to other platforms; with Chainlink, the company is even the only larger provider.
LINK has now reached a market capitalization of more than $10 billion, BlockFi says in justification for its inclusion in the list of supported cryptocurrencies. With its concept of processing external data in such a way that it can be fed into smart contracts, Chainlink has firmly established itself among the most important altcoins, it says.
Regarding Binance USD, BlockFi states, "Stablecoins are here to stay in the crypto industry. BUSD, which is co-owned by the world's largest crypto exchange Binance, currently has a market capitalization of just under $3 billion and is gaining traction in DeFi's growing market under Binance Smart Chain, for example.
Earning interest on BlockFi – here's how it works
BlockFi has surpassed the $4 billion mark in assets under management in 2020. The platform also operates legally in the EU and Germany and has proven to be reputable. After creating an account and an identity check with BlockFi, Bitcoin (BTC) and Ethereum (ETH), for example, can also be deposited in addition to LINK and BUSD. Interest is calculated daily and paid out monthly, usually in the cryptocurrency that was deposited. Customers remain flexible, as they can also withdraw their deposits at any time. Another advantage of BlockFi is that the platform also has a smaller integrated crypto exchange, which in turn makes it easier to exchange cryptocurrencies with each other. In addition, it maintains a close cooperation with Coinbase.
What else you should know about BlockFi and its competitors is summarized and explained in this special. Basically, these services of BlockFi and others are always recommended from our point of view, if assets are not intended for day trading, but as medium- and long-term investments so also earn interest when HODLing.