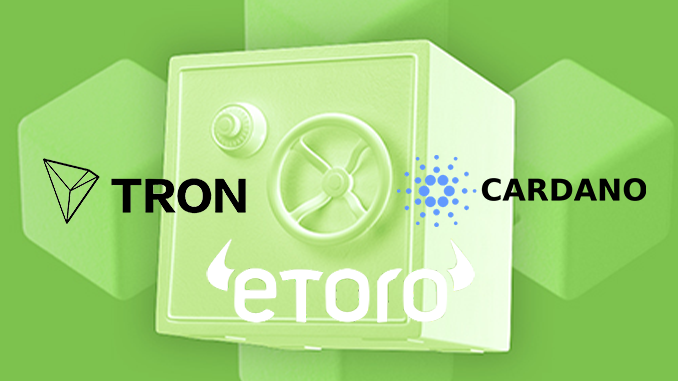 The eToro platform, which is also popular in Germany, is expanding its services with a staking program. This allows automated interest on deposits of certain crypto currencies to be collected. Initially eToro supports staking for TRON (TRX) and Cardano (ADA).
A bit late compared to other crypto exchanges, eToro is now also entering staking as a service for customers. But Cardano (ADA) is an Altcoin in staking which is not yet supported by Coinbase and Binance. In addition to Cardano, eToro will also be offering staking for TRON (TRX) at the launch, according to a press release. First proceeds to customers who hold ADA and/or TRX on eToro for staking are expected to be distributed in November.
Staking with eToro – how it works
Staking is the method by which crypto currencies under the protocol create proof-of-stake incentives to deposit coins for the stability of the network. Often this is organized however technologically complicated and therefore more and more crypto exchanges offer, Staking for customers take over.
eToro describes in its manual that for staking you just have to keep ADA or TRX on your customer account. Cardano then qualifies for staking after nine days, TRON after seven days. Based on daily snapshots the average of ADA or TRX that the respective customer has brought into eToro's staking is calculated at the end of the month. The Staking Rewards that eToro receives as a collection point are distributed accordingly to the participants of the program. Depending on their eToro status, customers will receive 75 percent (Bronze status), 85 percent (Silver, Gold, Platinum) or a maximum of 95 percent (Platinum Plus, Diamond) of the Cardano and/or TRON to which they are theoretically entitled. The rest is retained by eToro as a service fee. ADA and TRX always pay out at the beginning of the month.
Conclusion: eToro follows customer requests
According to eToro, the company plans to expand its staking program, initially targeting EOS, NEO and Tezos (XTZ). As there are no results available yet for TRON and Cardano, eToro does not yet indicate expected interest rates. Binance promises staking for TRX between seven and nine percent. In the Cardano case, eToro is for the time being a pioneer among the larger crypto exchanges. So if you hold an ADA and want to get staking to work for you, eToro now has a plus point. Even TRX can be entrusted to eToro for a short period of time without any worries as the platform has been spared from scandals for years.
---
Wer noch keine Bitcoins oder IOTA hat kann diese hier kaufen: