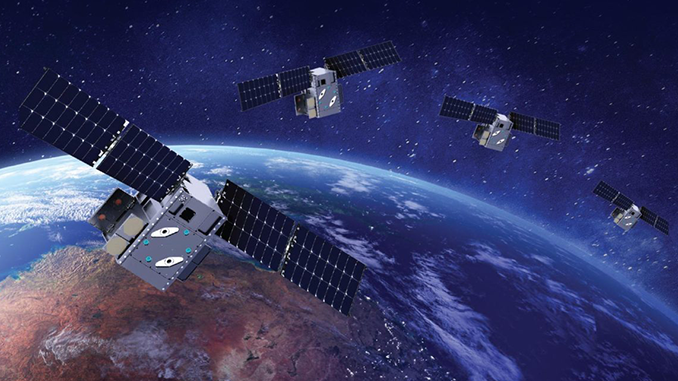 The Filecoin (FIL) Foundation and U.S. aerospace company Lockheed Martin plan to jointly install blockchain network points on satellites in space. This is expected to create innovative infrastructure.
Filecoin (FIL) has been focused on organizing decentralized cloud storage services via its own blockchain since its launch in fall 2020. In the future, this offering should also work in space. At least, that's the ambitious plans that the Filecoin Foundation has developed together with the US aerospace company Lockheed Martin. The short video about it was presented on the sidelines of the World Economic Forum in Davos:
Now in the crypto scene, announcements related to the moon are usually related to price curves. But Filecoin and Lockheed Martin take their vision literally. They assume that in the future there will be an increased need for satellites to be able to exchange information with each other and for space missions to move further and further away from Earth. In such scenarios, latency in Internet communications becomes an obstacle, with data flow delayed by increasing distances. The InterPlanetary File System (IPFS), which is already the technological backbone of Filecoin, is intended to provide a remedy. In a blog post, the Filecoin Foundation explains that its IFPS was intended to be space-ready from the start and is now being explored with Lockheed Martin through August to see how a pilot project can travel.
Lockheed Martin, in turn, says through a spokesperson that it sees space not just as a destination from Earth, as it has in the past, but in perspective as an area that stands on its own. This "new space economy" will accordingly need its own infrastructure. Already Lockheed Martin is building satellites. Filecoin, with IFPS as a cooperation partner, is recommended by its proven decentralized concept.
Filecoin's services use FIL as a means of payment. The altcoin skyrocketed to highs of well over 100 US dollars in 2021, but so far FIL is experiencing 2022 as a crash landing. From a good 30 US dollars at the beginning of the year, Filecoin has crashed to currently around 8 US dollars, and even the news about the cooperation project with Lockheed Martin could only provide a positive impulse for a few hours.
Conclusion: Filecoin with high plans – reality dominates for the time being
The price development of Filecoin speaks volumes, the plausible sounding concept of IFPS does not find enough users in practice. The cooperation with Lockheed Martin could bear fruit in the medium term and perhaps FIL would benefit from this. On the other hand, Lockheed Martin is a large, government-related company that also makes money from defense projects. Originally, Filecoin just wanted to be an alternative to market-dominating companies like Amazon and Google. Therefore, the alliance with Lockheed Martin could cause unrest – even if the vision of Filecoin in space has its charms and logic.
---