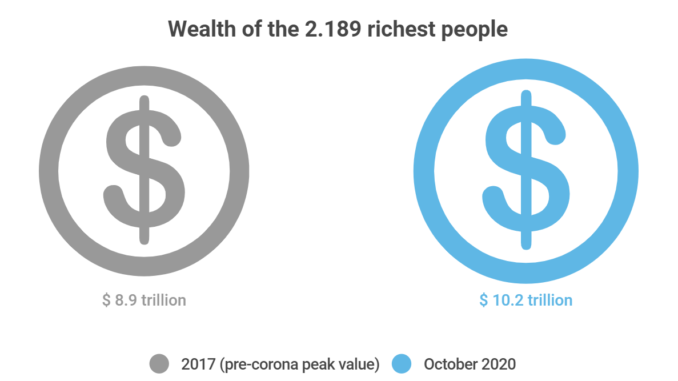 The wealth owned by some German billionaires has increased dramatically since last year – despite or even thanks to the corona crisis. According to a publication by Die Linke, the assets held by Reinhold Würth and his family have grown by as much as €7.4 billion or 77%. As a new infographic from Block-Builders.de shows, a similar picture is emerging worldwide.
The 2,189 wealthiest people in the world are currently worth around $10.2 trillion US. By contrast, in 2017 the figure was $8.9 trillion. As the infographic shows, the assets owned by US billionaires have risen by an average of 29% since the beginning of the corona crisis. Up to 50 million Americans have lost their jobs in the same period, as the Guardian reported.
However, not all sectors are benefiting equally. Entrepreneurs in the health and technology sectors in particular have enjoyed substantial asset appreciation.
Global Wealth Inequality is Growing
Net per capita financial assets are now 22 times higher in industrialised countries than in the developing world. Just four years ago, it was still 19 times as high.
There are 4 CEOs of US companies among the 5 richest people in the world. Namely Jeff Bezos (Amazon), Bill Gates (Microsoft), Mark Zuckerberg (Facebook) and Elon Musk (Tesla).
Multiple Drivers of Capital Accumulation
Market observers cite various reasons for this increase in asset value. These include the recent rallies in equities and precious metals, as well as further rises in property prices, public support programmes and low interest rate policies, which also appear to be fuelling the trend.
Block-Builders.de reports neutrally and impartially on the development of global wealth and has not collected any of its own data for this analysis. In some cases, a substantial portion of the assets flow back into the corporations and can thus also create value for society.