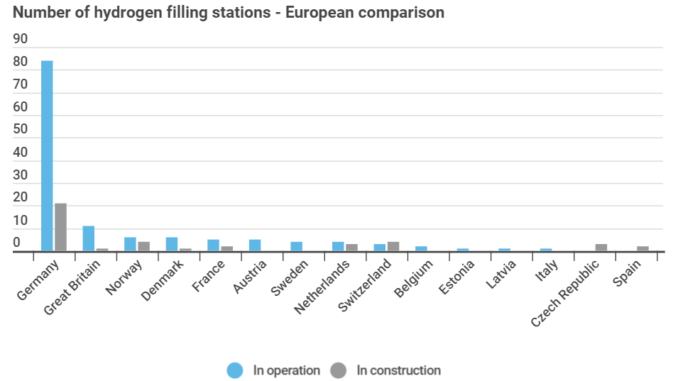 There are a total of 84 active hydrogen refueling stations in Germany, compared to just 38 in the rest of Europe combined, according to a new infographic from Block-Builders.de. The graph not only illustrates Germany's pioneering role, but also to the great growth potential that various researchers see for H2 technology.
Germany is also leading Europe in terms of new hydrogen filling stations, with 21 stations currently under construction, according to data from "H2.live". The country with the second most H2 filling stations is Norway, with 6 active and 4 more in the construction phase. Germany also holds the most patents in Europe for the fuel cell sector. Only Japan and the United States of America are ahead of the Federal Republic in this respect.
The share price developments for several companies in the sector indicate that hydrogen shares are also on the rise. For example, ITM Power's market value has increased by 958% in the last 5 years. The Nel ASA securities have similarly climbed 470% since the IPO in 2017.
Sharp Rise in Interest in Hydrogen Stocks
Meanwhile, Google searches for the search term "hydrogen" are also on the rise, with the Google trend score, indicating relative search volume, increasing by 345%. Instances of the search term pair "hydrogen stocks" increased even more sharply, rising 1850%.
Scientific Studies Confirm Hydrogen's Potential
The results of various studies suggest that development and expansion of the H2 infrastructure is only the beginning. According to management consultants "Roland Berger", demand for hydrogen will increase drastically in the next few years. By 2050, this will represent a global mass market worth up to 2.3 trillion euros.
Considerable upheavals are expected in the automotive market in particular. Researchers predict that by 2050 more than one in three vehicles will rely on H2 propulsion. It remains to be seen whether this hydrogen prophecy will come true. However should this be the case, Germany stands to gain. This is on the one hand due to Germany's pioneering role up to now, as shown above, and on the other hand thanks to German car companies' recent open-ended research and – for example in contrast to Tesla – development of different propulsion systems.