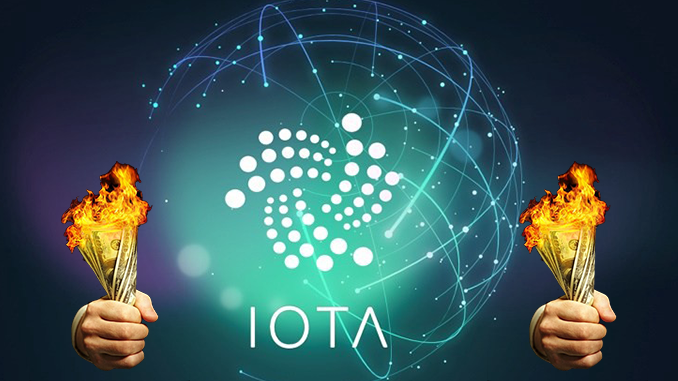 The IOTA Foundation will have to manage without Philipp Blum in the future. Blum extremely strong criticism of the practices and plans that prevail in the IOTA Foundation. Doubts about the future of IOTA are allowed.
IOTA has one problem more: With the dismissal of developer Philipp Blum, a blog post by him became public in which he criticizes the IOTA Foundation in many points. Blum has been working for IOTA for just one year as a full-time developer advocate. Now he makes it very clear in an open letter why a look behind the scenes at IOTA did not convince him of the sustainability of the project. In tone factual, in detail relentlessly exact – it is a sober account that Blum presents to IOTA. For you as an investor, Blum's writing is important because it shows what is wrong with IOTA. We summarize.
IOTA developers: IOTA is running out of money and is technically behind the competition
Before joining IOTA, Philipp Blum worked in various other web projects, often in the interface between technical development and communication with users. So he can compare experiences and in his report on IOTA he explicitly points out that he wishes the foundation continued success. Blum names six areas in which IOTA is threatened with failure:
1. Transparency: Blum criticises that the IOTA Foundation does not provide sufficient information about its financial situation. It is true that there is an IOTA website where incoming donations are noted. However, according to Blum, the data does not always match the address of the wallet where the IOTA Foundation manages credit balances. With running costs of over 1 million US dollars per month, the IOTA Foundation will receive the money in 13 months, Blum also concludes from the burn rate and the assets. In plain language: If IOTA does not manage to work profitably very quickly, the reserves will be depleted and professional developers will no longer be affordable by the IOTA Foundation. Blum also cites the dispute between the founders Sergey Ivancheglo (CFB) and David Sønstebø as an example of a lack of transparency and accuses them of fighting over money that should actually go to the IOTA Foundation.
2. IoT (Internet of Things): IOTA wants to become the industry standard in this area. But according to Blum, far too little happens in this core area of IOTA in the engine room. The IOTA protocol is still only compatible with a few other networks and, in terms of hardware, can only be safely used with expensive solutions. Instead of concentrating on these central issues, Blum says, time and capacity is wasted on reprogramming tools and creating web applications instead of native IoT solutions. In short: IOTA has technologically lost sight of its actual goal.
3. Technology: At IOTA, important sub-projects are sometimes only managed by one person. If this person is omitted, the respective technological approach can hardly be continued. And Blum repeats: The focus on the actual network, which is known to be unstable, has been lost and IOTA feels the effects at every turn.
4. Partnerships: Actually, cooperation should help all parties involved, says Blum. But IOTA grants licenses without obliging partners to support Mainnet and to make adaptations public and available. This leads to the situation that the industry likes to use IOTA's Tanglenet, but sets up its own versions (Private Tangle). Many members of the IOTA community are not aware of this important information.
5. Security: Blum comes back to the serious security hole in the official Trinity Wallet of IOTA, which forced the Mainnet at IOTA to take a month off. Blum says that although the word "hack" is most often used in public to deny responsibility, the wallet is still in use. But from Blum's point of view it was not a "hack" at all. Instead, serious failures at IOTA in the area of security audits led to the debacle. When the financial services provider Moonpay was integrated into the Trinity Wallet, it was not audited at all for security aspects, says Blum. Like many other developers, he himself used a different wallet than the Trinity Wallet for IOTA anyway. Nevertheless, the problem had to be noticed before it endangered the assets of IOTA users and investors.
6. Privacy: IOTA promises to uphold privacy as a basic principle. But a look at the various online presences of IOTA already shows Cookies and trackers are thrown around without informing the viewer. It is also doubtful whether IOTA needs Google tools there at all. All in all, IOTA is constantly violating the rules of the European Union's basic data protection regulation, and this is not being discussed internally. Blum also pats himself on the back here, however, because he made this issue of privacy and IOTA public early on, before he started working at IOTA.
Conclusion: IOTA stands on shaky legs – a mood of doom?
Blum believes that NANO, as a competitor to IOTA, has already overtaken his previous employer in terms of technology. Blum only briefly touched on the hotly discussed topic of "cordicide" in the crypto scene, but sees the successful implementation of "cordicde" as a prerequisite for the future of IOTA. As mentioned at the beginning: Blum presents a devastating general account of IOTA. But the tone he strikes is not that of a vendetta. Blum is disappointed with a project that fascinated him and then had to experience in practice how claim and reality, external presentation and internal affairs diverge. However, it should not be forgotten that Blum was dismissed by the IOTA Foundation.
Only last week a self-appointed insider named Hund had caused worry lines at IOTA. Blum's criticism continues in terms of content, as it is technological. What is striking is that the IOTA Foundation has so far hardly commented on the accusations and apparently tries to use sitting out as a communication tactic. Meanwhile, IOTA's share price has recovered somewhat to just over 0.20 US dollars. But all that we at IOTA repeatedly hear about internal conditions gives little reason to hope that IOTA will be the great success story that many are still hoping for. There seem to be fundamental difficulties at the IOTA Foundation; financially, strategically and last but not least in technological competence.
---
Best place to buy IOTA and Bitcoin: