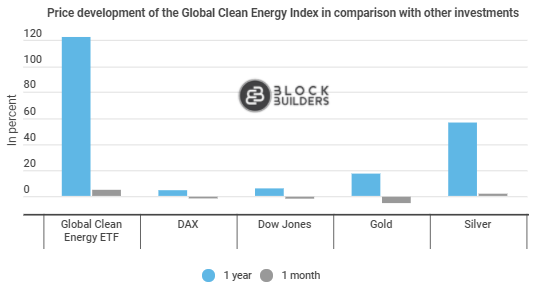 The iShares Global Clean Energy ETF has more than doubled in value over the past year. But more than that: as a new infographic by Block-Builders.de shows, it trumps all other exchange-traded index funds in terms of volume purchased, as well as being named ETF of the Year.
More and more investors are taking the view that sustainability and returns are by no means mutually exclusive. The iShares Global Clean Energy was the most traded ETF at ING. Similarly, the stock was the most popular ETF in January 2021 on Extraetf.com, an influential platform which tracks companies in the green energy sector.
The share price performance clearly reflects good fortune on the part of investors, with the Global Clean Energy ETF climbing 122.6% in the past year, while the DAX gained a mere 4.4%.
Global Clean Energy ETF in Greater Demand Than Ever
The Google Trend Score for the search terms "Global Clean Energy" achieved the maximum value of one hundred at the beginning of the year. This figure indicates the relative search volume. Back in October last year, the score stood at 25, before rising by as much as 300% in just a few weeks.
Growing awareness of sustainability is by no means an exclusively German phenomenon. According to a survey by Renewable Energy World, up to 86% of Americans are also keen to see more green energy.
This trend towards ecological stocks and ETFs is not only making itself felt in Germany, but also globally. However, interestingly there are significant differences between generations. Among 18 to 24-year-olds, one in two believes that returns are more important to them than climate and environmental protection when it comes to investing money. Among 55 to 73 year-olds, just 35% of investors place such emphasis on returns. Given the fact that returns on sustainable investments have recently been disproportionately high, this perhaps doesn't tell us too much.