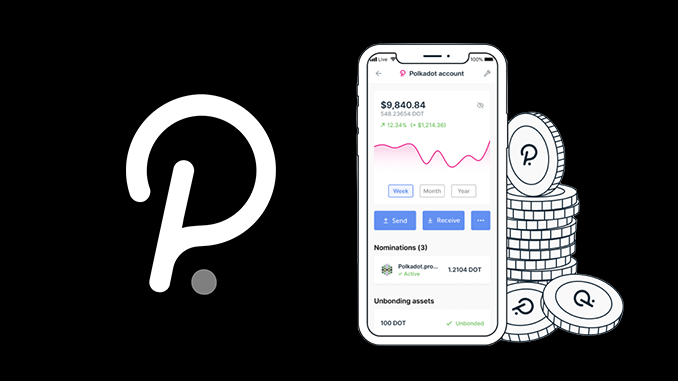 Those who hold Polkadot (DOT) can receive interest on them via staking. Instead of going through this process via a crypto exchange, Staking for Polkadot is now possible through Ledger hardware wallets.
For many cryptocurrencies that use proof-of-stake or related protocols, interest can be earned on balances through staking. In most cases, this involves simply leaving your coins such as Cardano (ADA) or Polkadot (DOT) with your preferred crypto exchange. However, it is safer to choose a hardware wallet to store your own funds. The entry-level model Ledger Nano S and the professional version Ledger Nano X have achieved widespread use among hardware wallets as user-friendly models. Through further development on the associated software Ledger Live, these hardware wallets are regularly prepared for new tasks. With Staking for Polkadot (DOT), a frequently voiced customer request has now been unlocked at Ledger Live, the French manufacturer reports via blog post.
According to the report, Staking for Polkadot at Ledger has two major advantages over the usual solutions using crypto exchanges as organizers. First, the DOTs used remain on the Ledger Nano S or Ledger Nano X and are therefore more secure than with an external custodian. And secondly, users can decide for themselves via Ledger Live into which pool they place their DOT. These partly differ in targeted APR and, if applicable, in their voting behavior when future plans are voted on at Polkadot.
Staking at Ledger – more coins to follow
Ledger Live already supports staking for Tezos (XTZ), Tron (TRX), Kosmos (ATOM) and Algorand (ALGO) in addition to Polkadot. Basically, in addition to funds in the aforementioned cryptocurrencies on one of the Ledger hardware wallets, it only takes a few clicks under Ledger Live to unlock DOT, TRX, XTZ, ATOM or ALGO for staking. DOT something currently has more than 15 percent APR in it, so that certainly pays off. Polkadot is one of the big winners in the still young crypto year 2021, at the end of February a new all-time high of 42 US dollars was quoted and since the beginning of the year DOT has increased in price by more than 400 percent.
Ledger announces that it will integrate staking for additional coins in 2021. However, it has not yet been revealed which coins will be involved. Especially those who invest in altcoins for the medium and long term are well advised to store them on hardware wallets. Staking with Ledger Live is an additional argument for choosing a Ledger Nano S or a Ledger Nano X.