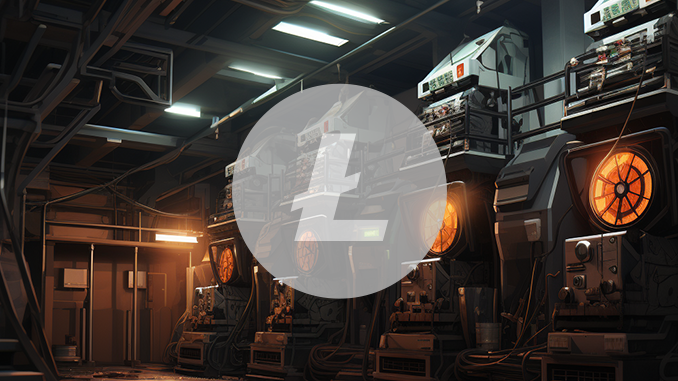 For Litecoin (LTC), the halving, which takes place every four years, took place yesterday. But hopes that the Litecoin halving could also drive the price of LTC have not been fulfilled.
Litecoin (LTC) has made something of a comeback this year with whopping price gains. Bitcoin's (BTC) little brother was also classified as a winning opportunity because Litecoin Halving was scheduled for August. Yesterday, Wednesday, was the day: for the third time in Litecoin's history, bonuses for LTC miners were halved, signifying an automated inflation brake.
However, Litecoin's price curve subsequently slid nearly 7 percent, with LTC currently trading at just over $86. The theory that the intentional shortage of new Litecoin strengthens the price has therefore not come true. We had already pointed out in July that the earlier Litecoin halvings by no means led to predicted price gains.
This is because Litecoin's real problem remains. Apart from its intended use as an online payment method, Litecoin has little to offer and as a digital currency LTC competes not only with Bitcoin, but moreover with other popular altcoins from Ethereum (ETH) to Binance Coin (BNB). To be fair, though, LTC has gained significant users in the four years since the last Litecoin halving, as an infographic shows.
Optimism for Litecoin continues to come from news in the US. There, the Securities and Exchange Commission (SEC) is aggressively cracking down on dozens of cryptocurrencies, but has so far spared Litecoin from legal action, in addition to Bitcoin, Ethereum, Bitcoin Cash (BCH). That's probably why the new Wall Street crypto exchange EDX Markets (EDXM) has limited itself to Litecoin, BTC ETH and BCH, which is considered to have triggered LTC's price gains in recent months.
Conclusion: Litecoin Halving – an Overestimated Event
So now we have to wait another four years for the next Litecoin halving and it is important to use the time to raise the profile of LTC. In Bitcoin, the BTC halving is announced for April 2024. And although many in the crypto scene see Bitcoin halving as a kind of guarantee for significant price gains, there are also good arguments that the event will lose significance. Taking the Litecoin halving as a benchmark, it is at least advisable for investors to be vigilant in pricing in the Bitcoin halving.
---