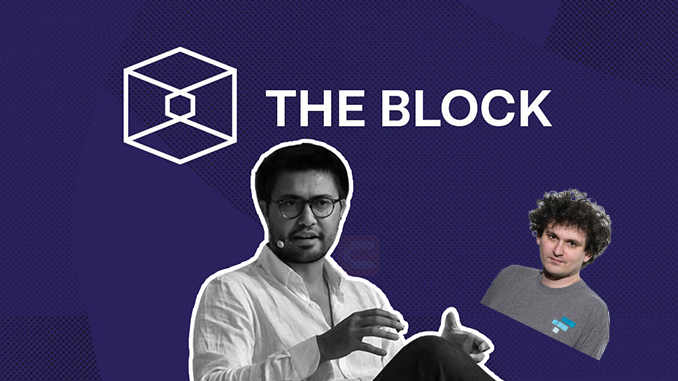 Trust in the US online magazine "The Block" has taken a hit because CEO Michael McCaffrey concealed having received 43 million US dollars in credit through Sam Bankman-Fried (SBF).
Now the drama surrounding Sam Bankman-Fried's bankrupt crypto empire has reached the influential trade publication "The Block." At the weekend, "The Block" had to report on its own account that CEO Michael McCaffrey is resigning with immediate effect. The background is three loans that McCaffrey secretly received from Alameda Research, the investment arm in the corporate network of Sam Bankman-Fried. $12 million loan in 2021 McCaffrey used to acquire "The Block" in a management buyout. Another $15 million loan flowed to McCaffrey in January to help fund the day-to-day operations of "The Block." McCaffrey used a third loan of $16 million to acquire a property in the Bahamas, where Sam Bankman-Fried's now insolvent crypto exchange FTX is also headquartered.
At "The Block," board member Bobby Moran is now taking over as CEO. In an open letter, Moran writes that the news of secret loans caused disappointment and shock among the team. Michael McCaffrey should have been aware that such deals damage the credibility of "The Block." To be sure, McCaffrey had not been seen trying to influence coverage of FTX, Alameda Research or Bankman-Fried. But the mere suspicion undermines the high standards of "The Block." Indeed, many in the crypto scene are now wondering why journalists at "The Block" did not follow up with their boss, from where he was suddenly provided with sums in the millions.
"The Block" and an affiliated analysis department is one of the most respected specialized media in the world of Bitcoin and Co. Around 30 reporters, editors and correspondents report daily for "The Block" on current developments in the crypto industry and thus also create valuable information for investors. The editorial guidelines explicitly state that texts supported by sponsors must also be clearly marked as such. Of course, "The Block" has continuously dealt with SBF and its companies. But a disclosure of the financial links by McCaffrey only occurred now, when the credit transactions were uncovered by debtor lists from Alameda Research.
Conclusion: reputation of "The Block" damaged by secret loans
"The Block's" competitors are conspicuously holding back on following up on the concealed loans. One reason: In the reports on SBF, FTX and Alameda Research, no example of "The Block" has emerged so far where conflicts of interest would be apparent. But now "The Block" has to be prepared for the editorial work to be taken up more critically than before. The new CEO Moran must also find a way to deal with the situation that McCaffrey, who has been dismissed, is still the largest shareholder in The Block.