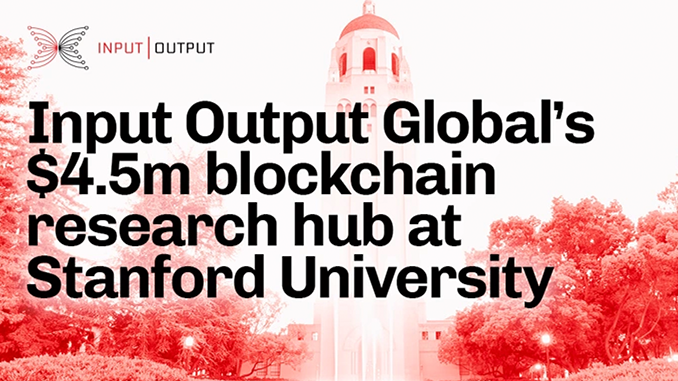 Input Output, the company behind Cardano (ADA), is contributing $4.5 million to fund a new blockchain research department at the prestigious US university Stanford. Question allowed.
Cardano (ADA) has claimed the reputation of being the most insistent on scientific standards in its development work among the many cryptocurrencies in the world. In keeping with this image, Input Output, the crypto company behind Cardano, is now announcing that it will fund the reestablishment of a blockchain research position at the prestigious Stanford University with a total of $4.5 million over the next three years. According to the blog post, a decision will be made there this year on targeted funding for academic projects that could be scientifically helpful to the crypto industry. Input Output is filling two of the eight seats on the selection committee for itself, and a provisional web presence is already online.
Of course, Cardano founder Charles Hoskinson is also quoted rejoicing about the initiative at Stanford University – and here skeptics can hardly stifle their laughter. Just this Hoskinson speaks again of scientific claims and wants to adorn himself with the University of Stanford? Because since this year it is known that Hoskinson has embellished the chapter "university" in his curriculum vitae. He always claimed to have stopped working on a PhD in favor of a full-time career in the crypto industry. But in reality, Hoskinson left the two universities he attended without any degree, much less participation in a PhD program, as crypto journalist Laura Shin proved. Hoskinson did try to dismiss the renowned Laura Shin as a storyteller, but provided no evidence to the contrary. Shin had followed up with the universities Hoskinson cited and obtained official information about Shin's academic record.
Ignoring the juicy Hoskinson personnel matter at the Input Output initiative (where he serves as CEO), however, the cooperation with Stanford University makes perfect sense. Some momentous mistakes in cryptocurrency development work would probably have been avoided by scientific standards, and academic research into future possibilities for blockchain solutions is to be welcomed. Input Output has already been involved in the establishment of research centers at the universities of Tokyo and Edinburgh in the past and proudly points to more than 130 scientific papers that have already been written on Cardano and the associated ecosystem.
Conclusion: Cardano with academic honors – Hoskinson a liability?
Cooperations with renowned universities should become the norm for large altcoins; this raises the quality of the development work in the medium term. Cardano is repeatedly treading a good path here, and Stanford University will hopefully be followed by others. Even chronically cash-strapped IOTA found £1 million for Imperial College in London earlier this year. What remains dubious about ADA, however, is chief executive Charles Hoskinson himself. In 2021, for example, he gave Carnegie Mellon University $20 million to establish a center for "formal mathematics" named after him. Charles Hoskinson must be deeply saddened by the fact that his own academic efforts have not been recognized anywhere. If errors are discovered in Cardano's work in the future, Hoskinson's story is sure to cause more than just ridicule.
---