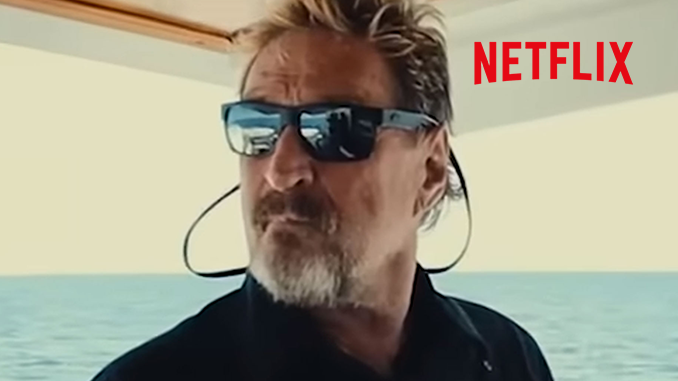 The notorious John McAfee was found dead in his Spanish prison cell in June 2021. Some do not believe in the official suicide vision. Now new rumors are making the rounds.
A life like John McAfee's was and is worthy of a movie: He earned a fortune with security software named after himself, and McAfee was at the forefront of the first crypto boom in 2017/8. His surreptitious advertising for windy new coins became McAfee's legal undoing; in 2020, the police in Spain arrested him for an extradition request to the United States. Even before the transfer, the then 75-year-old was found dead in June 2021 in the cell and immediately theories made the rounds, which doubted the official explanation "suicide". For McAfee had already posted on Twitter in 2019 that a possible suicide in his case should not be believed. He saw himself threatened by U.S. officials and could imagine a faked suicide.
A newly released Netflix documentary about the wild life of John McAfee is now giving conspiracy theorists new fodder. For in the documentary, ex-girlfriend Samantha Herrera claims she received a call two weeks after the death was reported. "It's me, John. I've been paying people to pretend I'm dead – but I'm not dead," McAfee is alleged to have said. According to Herrera, the call came from Texas and her ex-partner suggested they elope together. The story fits the picture McAfee liked to paint of himself – but can it be true?
In a statement to U.S. media, his wife Janice McAfee does not believe the Netflix version about her husband's death. She says "we are talking about John McAfee here, so anything is possible" – but then Janice McAfee also says that a disappearance in Texas is extremely unlikely, because he was being pursued by US authorities. Janice McAfee had stood by her husband even during his time in prison and continues to look after his Twitter account. There she steadily demands that the body be transferred to her and that an independent autopsy be allowed. In plain language: Janice McAfee also thinks a suicide is not necessarily plausible, but does not hope for a survival of her husband.
Conclusion: John McAfee remains material for legends
Scottish-born McAfee fascinated followers with a dissolute lifestyle, success as an entrepreneur and a swim against the tide – that has outlasted his death. Forgotten are all the fleeced investors who blindly followed his investment tips for the crypto industry. But it takes a lot of imagination to think it possible that Spanish authorities would have allowed and covered up a secret execution of McAfee by U.S. agents.
---