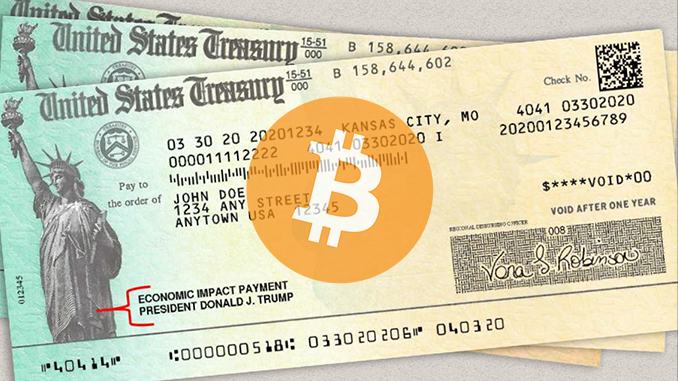 In the USA, many citizens bet the money that the state paid him in the Corona crisis as emergency aid to invest in Bitcoin (BTC) and other crypto currencies. This can be deduced from data published by crypto exchanges.
When the first billion-euro economic stimulus package was passed in the USA in March in response to the Corona crisis, great importance was attached to direct aid for citizens. Normally, 1,200 US dollars are paid out per adult; in the US it is called a "stimulus check". Now it is clear that many people are not using this financial injection as intended to make purchases and thus keep the domestic economy running. Instead, they see the money as an opportunity to enter the Bitcoin (BTC) and Co. trade. In a forum at Reddit, for example, there are many posts where users report that they have completely exchanged their Stimulus Check for BTC.
Background on US aid payments and private strategies per Bitcoin
The trend to put the capital often called helicopter money on crypto currencies is also confirmed by the crypto exchange Coinbase. CEO Brian Armstrong published a graph on Twitter that shows the sharp rise in deposits, the size of which corresponds exactly to 1,200 US dollars. Binance has also reported that it has seen many new accounts, apparently fed by the stimulus checks.
https://twitter.com/brian_armstrong/status/1250907110730170370
There are two ideas behind this private investment strategy towards Bitcoin. Firstly, many Americans understand that the huge stimulus packages bring with them the risk of inflation. Secondly, they see BTC in particular as a way to hedge against inflation and at the same time take with them the opportunity to increase in value through positive price developments. Some observers see actions per BTC as a kind of silent protest against the prevailing financial system.
Does the price of BTC benefit from new investors from the USA?
Bitcoin was still trading at just over USD 10,000 in mid-February. When it became increasingly clear that the effects of the corona virus were having an enormous negative impact on the global economy, stock market prices plummeted in mid-March and BTC also dropped sharply to around USD 5,000. In the meantime, BTC has recovered somewhat from this shock and appears to be stabilising at a good USD 7,000. It is difficult to quantify the contribution of the new nprivate investors. Because the upcoming Bitcoin Halving is also seen by many experts as a price driver.
---