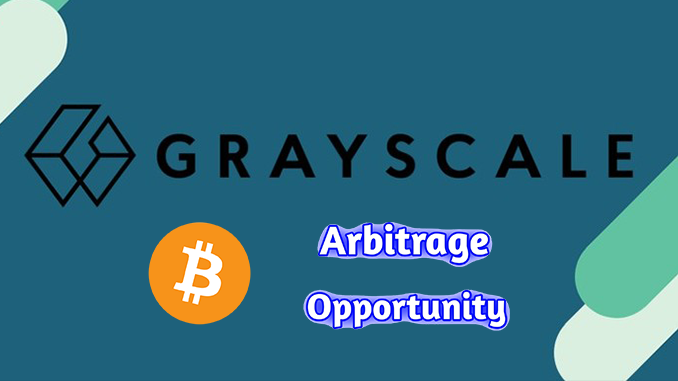 The world's largest listed Bitcoin fund comes from Grayscale and shows a rare phenomenon: When recalculating, GBTC currently shows a quasi discount for Bitcoin. You can profit from this.
Wealthy private investors and partly also institutional investors have often relied on Grayscale Bitcoin Trust (GBTC) in recent years to make investments in Bitcoin (BTC). The U.S. investment fund is listed on the stock exchange, has only Bitcoin as its content, and is physically backed by BTC. This makes GBTC very similar to a Bitcoin ETF in theory, but GBTC's price curve is not automatically linked to the price of Bitcoin quoted on crypto exchanges. This detail is critical to understanding why GBTC is currently a good way to invest in bitcoin at some sort of discount.
The net value of Grayscale Bitcoin Trust can be calculated by the bitcoin mirrored. In the past, large investors were overwhelmingly willing to accept premium prices on GBTC because they had few fallback options for Bitcoin investments. Thus, the gross value of GBTC often exceeded the bitcoin included by 20 percent or more. But the situation has changed. Since the beginning of 2022, the price curve of BTC shows a drop of almost 9 percent and in the same period GBTC lost a good 18 percent on the exchange. As a result, the market capitalization of GBTC is about 27 percent lower than the value that bitcoin has, which hedges GBTC.
Financial news agency Bloomberg explains the trend by noting that alternatives to GBTC entered the North American market in 2021 with Bitcoin ETFs in Canada and Bitcoin Future ETFs in the United States. As a result, Bitcoin investments were shifted because there was no longer a pressing need to accept GBTC's premium markups. Grayscale, through its parent company Digital Currency Group, is indeed trying to buy back GBTC to close the gap between value and valuation. But this is not working sufficiently so far.
Therefore, we have the situation: if you buy GBTC today, you are indirectly buying Bitcoin at almost a 30 discount. Sooner or later, gross and net value should converge again for GBTC. Then the arbitrage (price difference) between Bitcoin and GBTC will pay off, regardless of the ups and downs in the BTC price itself. You can buy and trade Grayscale Bitcoin Trust on the crypto exchange FTX.
Conclusion: Bitcoin investment via GBTC currently promising profits
As a precisely calculating investor, you are probably always on the lookout anyway, where in the broadly diversified crypto industry easy profit taking is possible due to arbitrage. The fact that GBTC also lends itself to bitcoin here is a rare effect. But recalculation confirms what the economic news points out – and that is why we consider GBTC a buy recommendation at the moment.