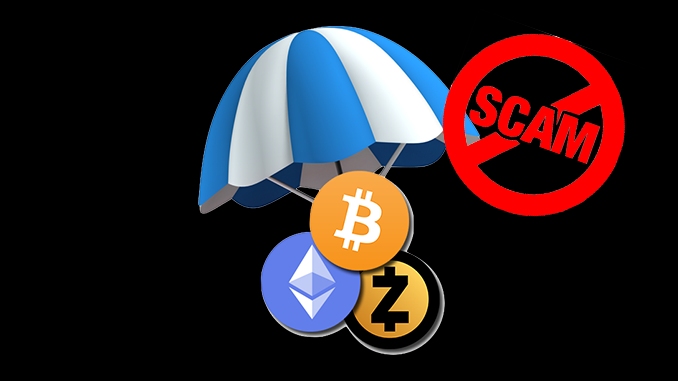 A new method used by scammers is causing alarm in the crypto scene. Allegedly valuable coins land on private wallets via airdrop. From there, they serve as a door opener for scams if you're not careful.
Unfortunately, it is once again time to warn about scams in the cryptocurrency world: a dangerous scam wave is being described on Reddit and other social networks, where apparent profits quickly turn into real losses. Namely, it is tokens like Minereum, Best Air, BNBw, TheVera or Zepe that you should be vigilant about. The method by which issuers want to grab money from such tokens is sneaky.
Stay away from unknown airdrops
The scams start with a fat bait: Credits in coins you usually never heard of before suddenly appear in your wallet. They were credited to you because you would have been entitled to them through an airdrop. Airdrops are a common practice to make new coins known. Your wallet will also give you an indication of how much US dollars your new coins are supposedly worth. From thousands to hundreds of thousands of US dollars is quickly the impression.
The scam starts when you try to make money out of your new coins. At Minereum, the process is well documented. In order to activate addresses there and subsequently generate profits through "self mining contracts", a fee is charged. This must be paid in Binance Coin (BNB) or Ethereum (ETH), two leading altcoins with real monetary value. You are then rid of the fees. But you are stuck with your Minereum and the supposedly so valuable "Self Mining Contracts" only produce cents. So don't start taking the Minereum seriously when such coins land on your wallet. The scam is being pulled off on the Binance Smart Chain (BSC) and Ethereum (ETH).
Even more dangerous is the scam behind Best Air, BNBw, TheVera and Zepe. Here, you quickly notice that these coins are not accepted even on broad-based decentralized crypto exchanges like PancakeSwap. But if you then visit the websites of such coins, you apparently find the way out. You are supposed to be able to exchange your Best Air, BNBw, TheVera or Zepe via a smart contract deposited there. But as soon as you open your wallet for these swap transactions, it has become vulnerable and quickly emptied. This is how victims tell their stories and give strong warnings.
Bottom line: honeypot airdrops for scammers – this is how you avoid harm.
Currently, the new and sophisticated scam attempts are apparently particularly prevalent in the Binance Coin (BNB) ecosystem via BSC wallets. Probably, the list of new coins we mentioned is also incomplete and successors are likely to come. However, you can protect yourself with three simple measures:
1. If new coins are credited to you via an airdrop, be sure to google the name with the addition scam. If you find it here, you will know what is going on.
2. If you are asked to pay fees or to confirm non-transparent smart contracts in order to redeem your new coins – then it is clear that a scam has been started.
3. as always with unknown altcoins: a look at data services like CoinMarcetCap or CoinGecko immediately reveals whether coins are traded at all on reputable crypto exchanges and if so, to what extent. Of our examples, only Minereum is even covered by these leading platforms, but shows no significant turnover, no reputable trading venues, and a price curve towards zero.
As great as the joy may be when you suddenly see fantasy amounts flashing under new names when you open your wallet – anyone who gets greedy here will pay dearly for it.
---
Best place to buy Bitcoin: