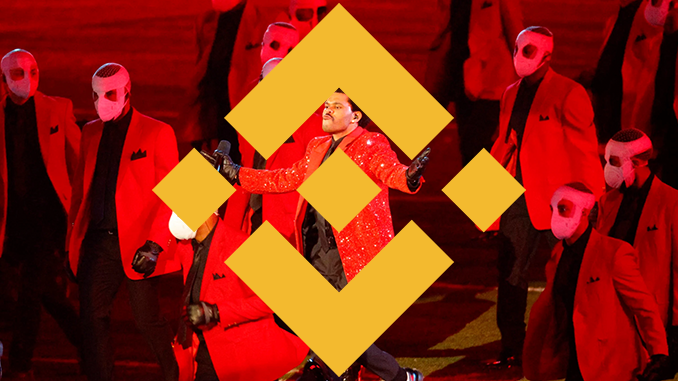 Binance has agreed to collaborate with R&B star The Weeknd on the upcoming "After Hours Til Dawn" tour. The talk is of new fan experiences, such as through NFTs.
Sponsorship in professional sports has already become the norm for the crypto industry, and now the world's largest crypto exchange Binance is putting out feelers toward music. Via press release, Binance announces it will sponsor The Weeknd's world tour, which begins in July. In collaboration with the R&B star, a first major tour is announced that integrates Web 3.0 solutions to create new experiences. The Weeknd himself had already marketed his own NFTs in 2021 and is also active in Tom Brady's Autograph marketplace.
Three specific plans have been mentioned so far for the "After Hours Til Dawn" concert series. Binance plans to release an exclusive NFT collection for The Weeknd's tour and also get involved in merchandising. In addition, it is planned that each ticket to the concerts will also provide digital access to NFTs commemorating the concerts. Five percent of the proceeds from the collaboration with The Weeknd will go to the XO Humanitarian Fund, which was founded by the songwriter himself. Binance will donate 2 million US dollars on top of that. The XO Humanitarian Fund is active worldwide in the fight against malnutrition.
The Weeknd has been among North American music stars for about a decade, and in 2021 he was allowed to take over the prestigious halftime show at the Super Bowl. Via Twitter, The Weeknd expressed excitement about the collaboration with Binance. The sponsor quoted The Weeknd on Twitter as praising him for experiencing the crypto exchange focused on innovation and users. With this approach, he said, it should also be possible to expand the concert experience in the direction of crypto.
Bottom line: NFTs at The Weeknd – money-making or service for fans?
Binance and The Weeknd promise more information soon on how they envision Web 3.0 linking to the tour business. Expanding the merchandising offers around NFTs doesn't sound spectacular at first. More interesting is the plan to add the feature of being able to claim NFTs to the ticket. The Weeknd has experience with NFTs and Binance has a marketplace. This could prove to be a suitable combination and bring Binance new customers. However, the cooperation can also be interpreted as a test balloon to see whether concertgoers are interested in NFTs and crypto at all.
---