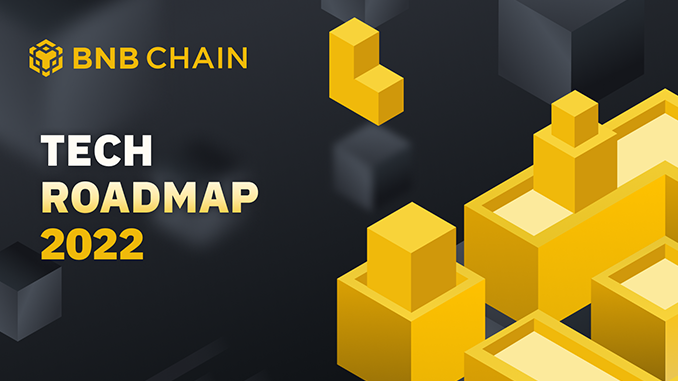 The BNB Chain is the core of an ecosystem initiated by Binance. To be ready for new challenges, major updates are planned for BNB Chain in 2022, including sidechains.
A flourishing ecosystem has developed around Binance Coin (BNB) in recent years, which is the global number two behind Ethereum (ETH) in the DeFi segment, for example. At the center of this is the BNB Chain, which was relaunched in February. Now, at a conference, the technological plans for the BNB Chain this year have been revealed.
The first goal is to increase the network capacity of the NBB and to keep the fees low. One way to do this is to increase the block size in the blockchain, which will allow more transactions to be validated and documented in a block. Here, updates are scheduled through the fall. The second step, which tends to be larger, towards more capacity in the BNB ecosystem is the introduction of sidechains. Announcements on this were already made in March and the current roadmap expects sidechains to be activated in the BNB chain by the third quarter of 2022 at the latest, with DApps such as Metaverse World making the start.
In general, sidechains are to be assigned to specific applications in the BNB Chain. Developers will also be able to decide on the amount of transaction fees and define their own network points. This should make the BAS (BNB App Sidechains) flexible to handle. The rollout of further sidechains under the name zkBAS has also been announced for fall 2022, each of which will handle up to 10,000 transactions per second (TPS) on its own.
BNB Chain becomes more decentralized
Until now, criticism of the BNB Chain has been directed at the 21 selected network points that confirm transactions and thus have a special significance. This has little to do with decentralization, critics complain, and moreover almost all of the 21 validators are more or less directly linked to Binance. By the middle of the year, the number of validators in the BNB chain should increase to 42. In addition, a maintenance mode will be introduced so that individual network points can temporarily log off without jeopardizing the entire network. It is expected that independent validators will also stand for election, making the BNB Chain more decentralized.
Conclusion: NBB Chain is working on future security
Whether it's the recurring network outages at Solana or the wait for Ethereum 2.0, capacity and security play key roles in ecosystem competition. BNB Chain has now clearly defined its goals, which means it could take big steps forward technologically by the end of 2022 if it meets its plan.
---