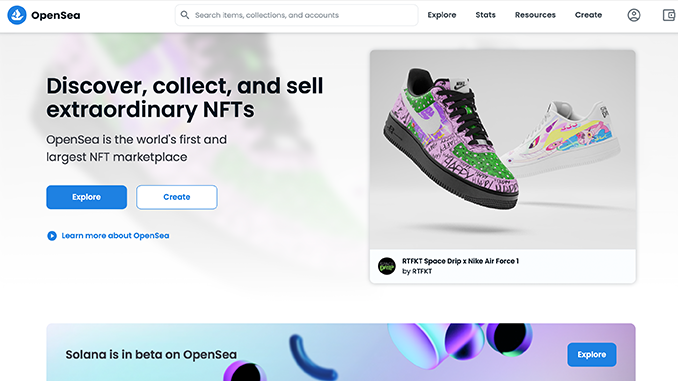 New York prosecutors have arrested an ex-employee of NFT marketplace OpenSea on charges of insider trading. The accused is alleged to have cheated in at least 45 cases.
In the U.S., prosecutors report the first insider trading case involving NFTs. In the complaint, Nate Chastain is accused of illegally using information from his work at OpenSea for his own benefits. The 31-year-old was a product manager at OpenSea and therefore knew which new NFT collections would soon be prominently featured on the leading marketplace. This allowed Chastain to stock up on appropriate NFTs in advance and then sell them at large premiums when they gained momentum from their appearance on OpenSea. A lawyer for Chastain denies the allegations and speaks of "innocence."
But at OpenSea, the suspect was fired even before the current arrest, and the chain of evidence presented speaks for itself. Prosecutors want Chastain jailed for up to 20 years for fraud and money laundering in connection with insider trading. Specifically, he allegedly turned his insider knowledge into quick profits with NFT collections such as "The Brawl 2," "Flipping and Spinning" and "Spectrum of a Ramenfication Theory." For OpenSea, the matter is highly embarrassing. The platform handles more than 50 percent of global trading in NFTs and, like an exchange, has pledged neutrality. But most recently, OpenSea has had to deal with phishing attacks as well as allegations of insider trading.
According to prosecutors, Chastain was able to run his scam for nearly four months from June to September 2021. The trial is now also likely to raise the question of why internal auditors at OpenSea did not sound the alarm earlier and how the marketplace generally wants to prevent insider trading.
Conclusion: Insider trading at OpenSea damages NFT market
The sometimes million-dollar prices for NFTs regularly provoke critics to condemn trading in these exclusive tokens as a "bubble." An incident like now at OpenSea gives their skepticism new fodder. If even the NFT marketplace with the highest turnover by far cannot guarantee fair conditions for traders, the suspicion is obvious that insiders elsewhere are also abusing advance knowledge. In general, the NFT hype seems to be cooling down; according to the NonFungible data service, the number of daily sales is now also dropping noticeably. However, it is often ignored that the topic of NFTs is not limited to digital art and collectibles, but also enables innovative solutions in other industries such as logistics and events.
---