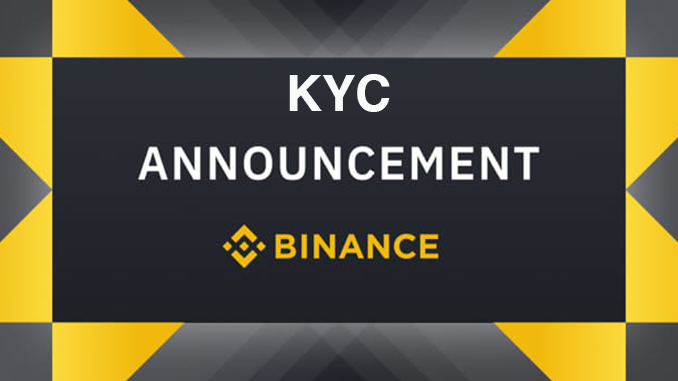 The world's top-selling crypto exchange Binance is putting a stop to anonymous use. An identity check (KYC) will become a must for new and existing customers at Binance.
In the crypto scene, it is no secret that quite a few investors prefer to remain anonymous. Seriously operating platforms that made this possible, however, have become increasingly rare in recent years. Due to pressure from regulatory and tax authorities, it has become standard for crypto exchanges to require customers to undergo an identity check that clearly records their name and place of residence using official documents. Until now, the industry leader Binance still offered a loophole: Those who waived the use of bank transfers and FIAT there could register anonymously and still trade and make deposits and withdrawals in Bitcoin and Co. At the end of July, Binance already lowered the limit for such unconfirmed customer accounts to 0.06 Bitcoin (BTC) from 2 BTC before. But now this option is also abolished.
Because via customer information, Binance announces that new customers will only be activated for trading once an identity check has been carried out, effective immediately. For existing customers at Binance, the requirement for identity verification is to be implemented by October 19. However, effective immediately, cryptocurrency trading is prohibited for anonymous customer accounts and only withdrawals and liquidation of positions are possible, according to Binance's statement.
Regulatory pressure is changing Binance
Binance CEO Changpeng Zhao ("CZ") commented on the new identity verification requirement via Twitter, saying, "Actions speak louder than words." He had already acknowledged in various interviews and speaking engagements in recent weeks that Binance needed to become more proactive in complying with regulatory frameworks. Crypto expert Larry Cermak, meanwhile, classifies Binance's move on Twitter as "the pressure must have gone crazy." However, Cermak also points out that according to Binance, 80 percent of customers already select an identity verification when they open customer accounts anyway.
Against this backdrop, a look at Binance Coin's (BNB) price curve is also illuminating. This is because BNB – in line with the overall market – has been able to post significant gains since the announcement of the changed conditions for customers. Thus, investors seem to welcome the fact that Binance is taking a peace course with authorities, even though some customers may be lost as a result.
Bottom line: if in doubt, catch up on KYC at Binance now.
You will hardly want to risk losing your access to the customer account at Binance. If you have refrained from identity verification there so far, now is the time to take action. As far as we know, you can withdraw crypto funds from Binance anonymously until October 19, if necessary in tranches to take into account the daily limit of 0.06 BTC. However, it probably makes more sense for you to initiate the Know Your Customer (KYC) at Binance online now in order to continue using the diverse offers. Binance informs that a confirmation with KYC can currently take up to ten days, presumably in anticipation of a large number of cases to be processed.
---
Open a Binance Account here and save 10% on fees for a lifetime.