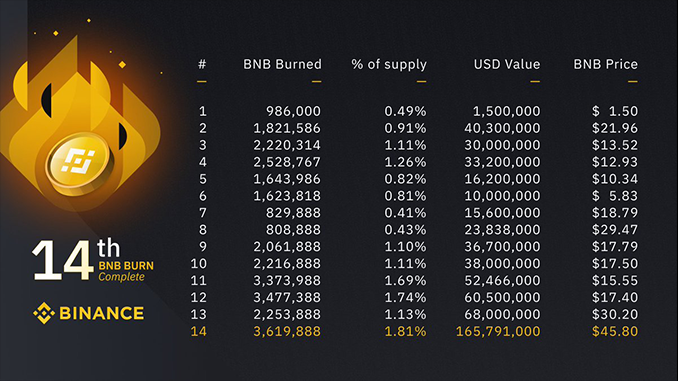 Crypto exchange Binance has burned BNB again in rotation – this time in a record amount. This indicates significantly increased turnover at Binance in Q4 2020. BNB then reached an all-time high.
The world's largest crypto exchange Binance continues to sail on the road to success and this is reflected in the price performance of Binance Coin (BNB). BNB climbed above the $47 mark for the first time in a history yesterday (Tuesday), marking a new all-time high. This was directly preceded by Binance's so-called "Burn Program," which destroys BNB every quarter and thus removes it from the market. Binance announced in a statement that this time more BNB were burned in quantity (3.6 million BNB) and value ($166 million) than ever before. As usual, Binance CEO Changpeng Zhao used the must-read event to share some thoughts on the current state of the crypto industry.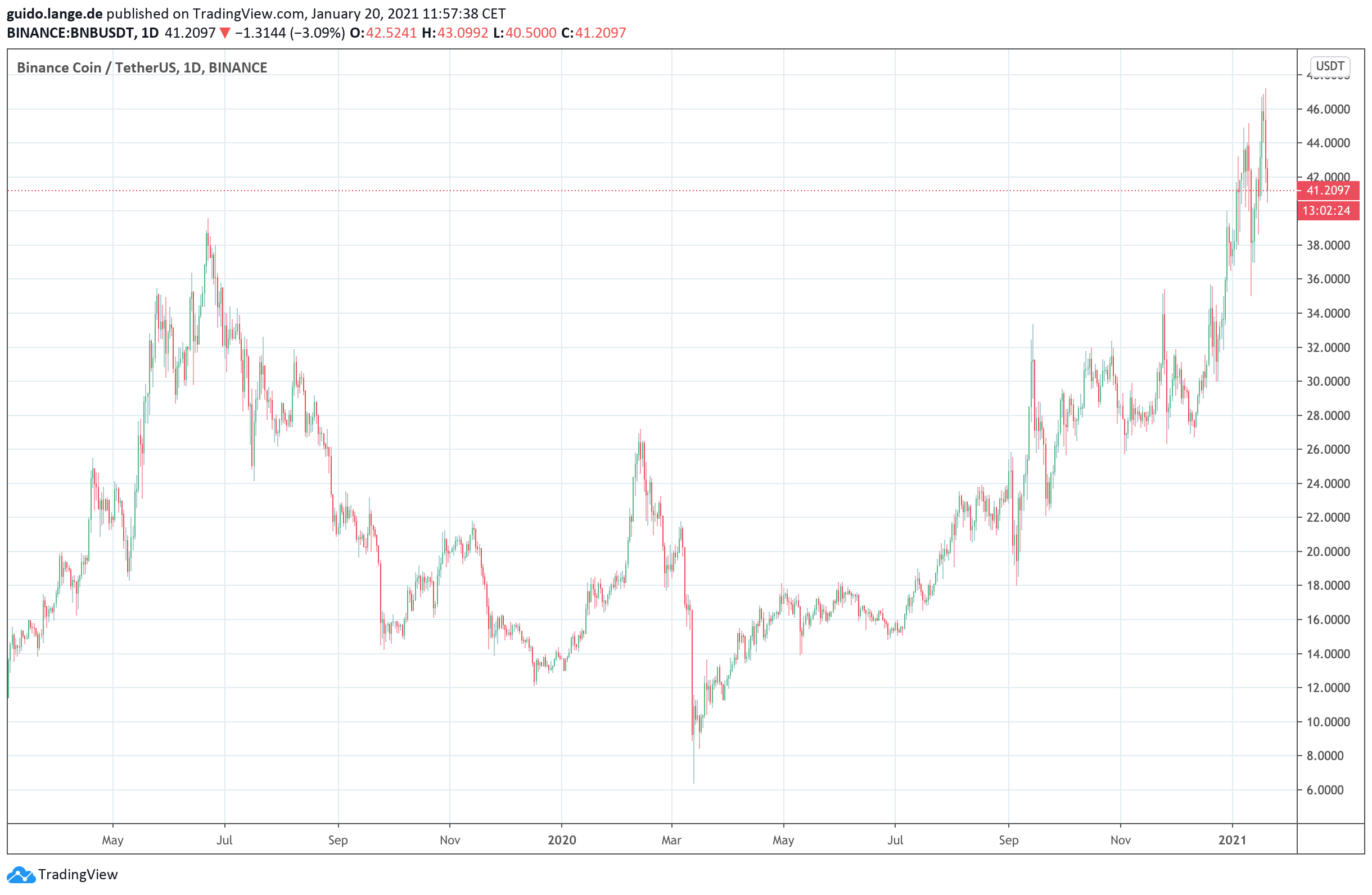 Binance's Burn Program for BNB.
Binance had funded its launch in 2017 through an ICO of BNB. The altcoin was innovatively designed as a discount token, guaranteeing Binance customers discounts on fees for trading on Binance to this day. Initially, 200 million BNB were generated and Binance promised to destroy BNB every quarter depending on turnover figures to fight inflation, which indirectly provokes price increases. According to Changpeng Zhao, the current 14th burn of BNB is the first time Binance has burned more tokens than those originally promised, each worth 20 percent of the preceding quarter's profit. This will continue in the future, CZ writes. He said he realizes that this also means Binance's revenues and profits can no longer be counted back as before. But if the current practice were to be maintained, it would have taken another 27 years for BNB's total holdings to be reduced from 200 million to 100 million BNB as promised.
Respected analyst Larry Cermak conclusively summarized Binance's record event for BNB on Twitter: Binance had increased its spot market turnover by about 50 percent in Q4 2020 compared to the previous quarter, and its volume for futures had increased by as much as 140 percent. Binance is thus now advancing to the position of market leader for crypto futures as well. Cermak estimates total revenues for Binance in Q4 2020 at just over $470 billion. It should be noted that Bitcoin, as the lead currency for the crypto market, set off on a new record chase in September 2020 and ended the crypto year 2020 with an all-time high of well over 20,000 US dollars, which, however, has long since been overtaken again with current levels of a good 35,000 US dollars per BTC.
Binance chief CZ's outlook on the crypto market
BNB and Binance are on track for success in this positive market environment, writes CEO Changpeng Zhao. He had been widely mocked for predictions that it would be foolish to sell Bitcoin assets at prices below $10,000. Now, he said, he stands by predictions for Bitcoin that cite US$100,000 and US$249,000 as the next targets, and may even add US$1 million per Bitcoin. He professes to expect Bitcoin's price performance to be "extremely bullish."
But investors should not make the mistake of disregarding altcoins, CZ said. Bitcoin is the reserve currency for the crypto market, which in turn has room for a large number of other projects, he said. The future will bring thousands of blockchains and millions of tokens, he said. Binance as a crypto exchange will benefit from strong growth in demand and associated revenues.
In this respect, CZ also sees prosperous prospects for BNB. BNB has long since evolved beyond its original purpose as a discount token with its own blockchain BSC and will play a leading role in topics such as DeFi, DApps and decentralized crypto exchanges. CZ avoids a price forecast for BNB, but between the lines there ideas like $100 per BNB are no longer fantasies.
Bottom line: Binance dominates the crypto exchange market, BNB goes steep
As an observer and investor, one rubs one's eyes in view of the record reports for Binance and BNB: So, in less than five years, a crypto exchange has managed to completely turn the market upside down and meanwhile dominate it sovereignly. The bare figures make the competitor Coinbase look pale – and the latter is after all aiming for an IPO in the USA. In other words, those who want to participate in Binance's success are left with BNB as a suitable instrument. In this atmosphere, it is something of an anecdote that Binance has also rediscovered and unlocked an account holding 16 million BNB, currently worth $750 million, as a bonus for its staff. CZ asserts that his colleagues have not converted a single one of their bonus BNB into fiat so far. Binance as an indicator of the crypto market is simply impressive.
---
Open a Binance Account here and save 10% on fees for a lifetime.