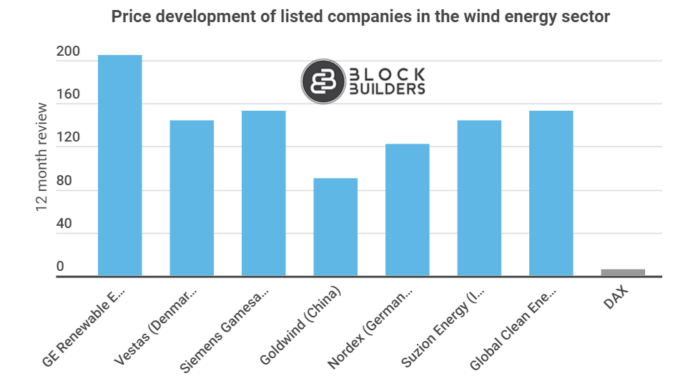 Wind energy accounted for 27.2% of Germany's total electricity output last year, making it the country's leading source of energy. This is shown in a new infographic from Block-Builders.de. Gross electricity generation from wind power in Germany has climbed from 39 terawatt hours to 132.8 terawatt hours since 2010. This development is not only beneficial for the climate, but also for the shareholders of companies in the wind power sector.
Energy generation from coal is now only in second place in terms of its contribution, with a proportion of 24.3%. The trend towards sustainability looks likely to further drive up the share of renewables in the years to come.
Indeed, photovoltaic systems' contribution to total energy generation is also rising: 10.6% of Germany's electricity generation comes from solar power. However, the gains for wind power have been even greater. Enercon and Nordex, two German companies, are among the big players in the field of wind power and wind turbine manufacturing.
Sustainability in Vogue
Onshore wind power contributes almost 42% of the renewable energy sector, while offshore wind power accounts for around 11%. In addition to solar modules, green energy is also increasingly supplemented by biomass and hydropower.
This development is causing a furore on the stock exchange floor as well. Today, 42% of investors are persuaded that sustainable investments even lead to higher returns. Recent history seems to prove them right: while the DAX has risen by just 5.5% over the last year, share prices of companies in the wind energy sector have gained up to 205%. The German Nordex Group also achieved a gain of 122% in the same period.