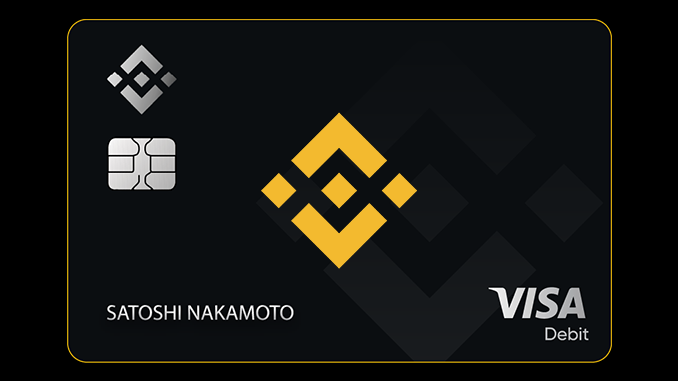 With the Binance Visa card, the world's largest crypto exchange is now entering the crypto credit card business in the EU. A particular highlight is the cashback program, which promises up to 8 percent indirect discount on payments made with the Binance Visa card.
Since spring 2020, Binance has been planning to meet customer requirements with its own crypto-credit card. Since then, a lot has happened and it was probably only the takeover of the provider Swipe that enabled Binance to fulfill its promise. But now the wait is over and the offer called Binance Visa Card is officially launched in the EU and thus also in Germany. In a blog post, Binance emphasizes that for cardholders with up to 8 percent cashback, it is the best such program currently available on the market.
Binance Visa Card – how it works
Swipe acts as the issuer for the Binance Visa card in the background. The Binance credit card is linked to the customer account with Binance and can currently be covered by Bitcoin (BTC), Binance Coin (BNB), Swipe (SXP) and the Stablecoin Binance USD (BUSD). When paying with the Binance Visa card in euros or other local currencies, credit balances are automatically exchanged from the desired crypto currency. Experts had already pointed out in advance that the Binance Visa card is not a genuine crypto-credit card in that it does not allow direct payments in Bitcoin and Co.
But apart from that, the package that Binance has now put together is attractive: no fees are charged for payments in euros, the first issue of a physical credit card is free of charge and there is also no annual fee. But even more important is the cashback program of the Binance Visa card. This program has eight levels and is based on the number of Binance Coin (BNB) that the cardholder has held in his or her Binance accounts over the last 30 days on average. Even with zero BNB, there is still 1 percent cashback, with 10 to 49 BNB there is already 2 percent, with 50 to 199 BNB there is 3 percent, and so on. With 6,000 BNB and more, the maximum limit of 8 percent cashback is reached. All BNBs are included in this calculation, including those that are stored in the Binance Launchpool or in futures. All payments qualify for the cashback program, except for the turnover generated by crypto exchanges and related digital banking transactions. Distributions through the Binance Visa Card Cashback Program are made in BNB and on a daily basis.
Conclusion: Binance Visa Card – even more rewarding as a duet with BNB
BNB currently stands at around 24 euros and is a must for Binance customers as a discount token. With the option of depositing BNBs with the DeFi launch pool from Binance, there is a further argument for BNBs' HODL. The cashback program of the Binance Visa card is the latest incentive to hold or build up balances in BNB. With a worldwide accepted and free Visa credit card from Binance you certainly won't go wrong – it can also be used via Google Pay and Samsung Pay. The offer becomes really exciting if you use the cashback program specifically.
---
Open a Binance Account here and save 10% on fees for a lifetime.