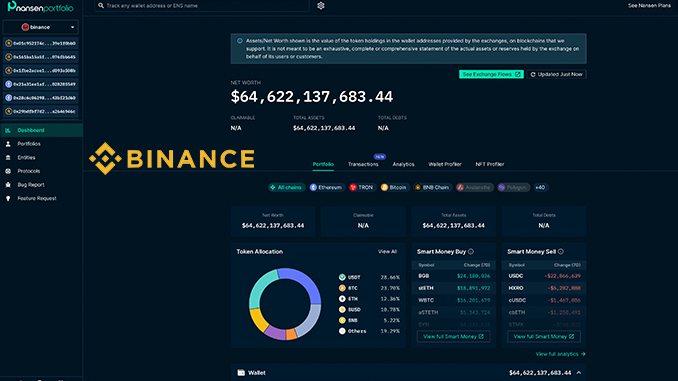 The crypto exchange Binance is under increased scrutiny after the US financial regulator CFTC filed a lawsuit. Customers are partly unsettled and are withdrawing their funds. But CEO Changpeng Zhao is reassuring.
Binance is the global market leader among crypto exchanges and has further strengthened its position after the bankruptcy of competitor FTX in November 2022. But Binance's good mood was severely disrupted this week by a lawsuit filed by the U.S. financial regulator CFTC, and the Binance Coin (BNB) price curve is reacting nervously. In addition, there are increasing voices that fear that Binance could experience a so-called "bank run" in which customers suddenly withdraw their funds in droves because they lose confidence.
Blockchain data on Binance shows: In fact, a good 2.2 billion US dollars were withdrawn from Monday to Wednesday since the CFTC complaint became known, which is offset by deposits of about 1.3 billion. So, in net terms, there is currently $900 million less deposited with Binance than there was before the legal problems in the US. The sum is to be seen in comparison to the total of around 64 billion US dollars invested with Binance and is therefore manageable. Binance has started to transparently document its reserves after the FTX bankruptcy in order to counter possible doubts about liquidity.
For example, Binance CEO Changpeng Zhao is also deliberately playing it cool, emphasizing via Twitter that the current outflows of customer funds do not approach the levels the crypto exchange had to cope with on previous major crash days. When the FTX crash caused panic, Binance experienced more than $2 billion in withdrawals on single days in early December 2022. Similar levels were noticed in January 2023. In both cases, Binance was able to meet customer demands without any problems.
Conclusion: Binance appears to be in a stable position – US problems perhaps exaggerated
As a market leader, Binance has had to get used to being a target for even highly hyped stories and nasty rumors. But CEO CZ and his team have led the way, at least in the way they document their handling of customer funds. Binance's repeated assurances that customer funds are not touched and so are available for withdrawal at any time are backed up by blockchain data. Incidentally, after the last two large waves of withdrawals at Binance, a somewhat delayed return of funds could also be observed. So it will be worth following what impact the CFTC complaint has on Binance's US business. But news that Binance is facing liquidity problems seems far-fetched given the facts.
---
Open a Binance Account here and save 10% on fees for a lifetime.