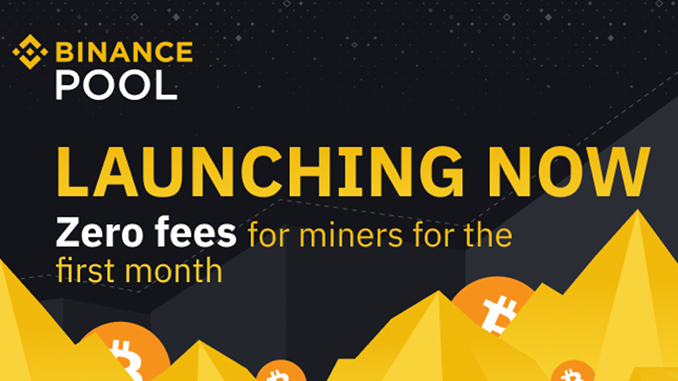 Binance as market leader among the crypto exchanges expands its business range by Mining Pools. Initially, the focus will be on the mining of Bitcoin (BTC). Critics fear that Binance could take over the majority in BTC's block chain in the future.
Mining Pools are a common way to participate in the potentially profitable business of organizing block chains. This is because in principle, almost all crypto-currencies are firmly established that rewards are paid for opening up new blocks. But at least with the Proof-of-Work (PoW) protocol used by Bitcoin, the computing power of normal computers has long since ceased to be sufficient to solve the complicated cryptographic puzzles that unlock new block and mining rewards. In the Mining Pool, computer capacities are combined, which significantly increases the prospect of allocated coins. From now on, the world's leading crypto exchange Binance is also joining the organization of mining pools, as reported in a blog post.
Background on Mining Pools at Binance
Binance is advertising that no fees will be charged until 1 June 2020 for connecting computer capacities to the in-house mining pool. A mining pool for Bitcoin (BTC) was opened at the start, corresponding offers for other crypto currencies are to follow. The expected profits will be distributed by Binance according to the FPPS (Full Pay Per Share) method, which is considered very fair. For this purpose, Binance measures in the background how much computer power individual participants bring into the mining pool and distributes profits accordingly on a percentage basis. This is done on a daily basis and the money is transferred directly to the respective Binance account, according to an explanatory text.
Binance thus hopes that its initially free offer will attract those who have so far connected their hardware to other mining pools. And this gives rise to fears that dangerous majorities will form in block chains, keyword 51 percent attack. Binance CEO Changpeng Zhao contradicts this skepticism via Twitter and points out that his company's Bitcoin Mining Pool is only ranked 11th among the largest market participants at the start.
https://twitter.com/cz_binance/status/1254755457933033475
The leading mining pools are Antpool, F2Pool and Poolin, each with between 15 and 20 percent of the hashrate behind Bitcoin. According to the latest data, the Binance Pool has so far been ranked under "ferner laufen" with 1 percent. Binance has therefore not set up computer farms itself, but wants to operate as a technological service provider.
Is BTC Mining with Binance an option for me?
At BTC's current prices of well under USD 10,000, mining from Germany and Europe is not profitable because the price of electricity is too high. The majority of the mining pools operate from China, interesting pilot projects are known from the USA, which rely on renewable energies or surplus power plant capacities to solve the electricity price issue.
If you expect Binance to have similar success with the launch of its own Mining Pools as with other offers, Binance Coin (BNB) remains the best choice to participate in the business prospects. No direct positive impulses on BNB's share price have been observed since the launch of the BTC Mining Pool. It should be borne in mind that the Bitcoin Halving due in May could well influence the market for mining pools. In this respect Binance has demonstrated a unerring sense of perfect timing with the opening of the new Mining Pools division.
---