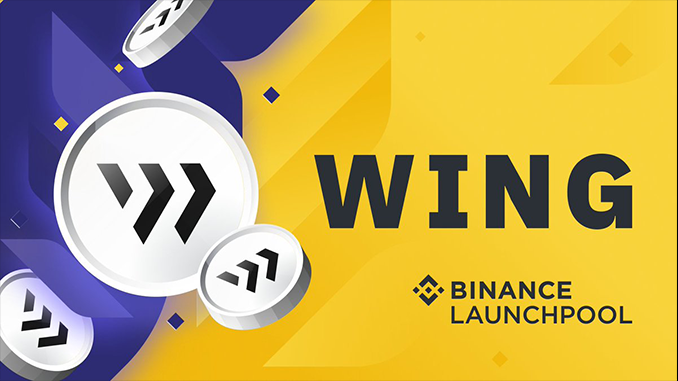 In the middle of the DeFi boom, the world's largest crypto exchange Binance is bringing another project to its customers with WING. WING is designed as a platform for loan transactions. Anyone who now participates in Binance and contributes liquidity will be rewarded with WING for their efforts.
Binance is continuing its offensive in terms of DeFi (Decentralized Finance) and offers the possibility of lending credit to the WING project via its launch pool. The Binance Launchpool was launched as a platform for DeFi projects just a week ago with Bella Protocol and BEL. Now WING is a second DeFi project that promises good chances of profit for early investors.
Background on WING at Binance
WING initially wants to establish itself as a DeFi platform for crypto loan transactions and score points in that they function across different block chains. To ensure that liquidity is available right from the start, WING will be distributed to investors who make credit balances available. According to its own announcement, Binance started accepting deposits for WING during the night of Tuesday. You can deposit Binance Coin (BNB), the Stablecoin Binance USD (BUSD) or Ontology (ONT), there is no maximum amount set.
Until 15 October 2020, WING will be automatically distributed to all participants in this project. There are 130,000 WING available for this purpose, 50 percent of which will be paid out in BNB deposits, 40 percent in ONT deposits and 10 percent to those who invest BUSD. The amount of WING you receive is determined by your daily share in the respective pools. At the same time you also receive interest from the loan transactions. A special highlight: deposits in BNB or BUSD that are already stored with Bella Protocol now qualify for BEL and WING at the same time.
Binance will list WING starting tomorrow, Wednesday. There was no private sale or other sale of WING in the run-up to the listing, so the price of the initial listing is formed freely by the market.
Conclusion: WING is starting – now entering via Binance?
Binance has a reputation for applying strict standards in the selection of funded projects. In this respect, the chances are good that WING will not turn out to be an empty shell. In the competition for DeFi projects, WING also wants to include classic asset classes and insurance companies in the future, thereby setting itself apart from other providers. Because it is also clear that DeFi no longer has a unique selling proposition with crypto rental stores. The launch pool from Binance to WING already shows well over 100 million US dollars, converted into euros, that have been entrusted to the project. The focus is now on the price of WING at tomorrow's listing. For you as an investor, Bella Protocol and WING at Binance are particularly exciting because you can have your deposits work on two DeFi projects at the same time.
---
Open a Binance Account here and save 10% on fees for a lifetime.