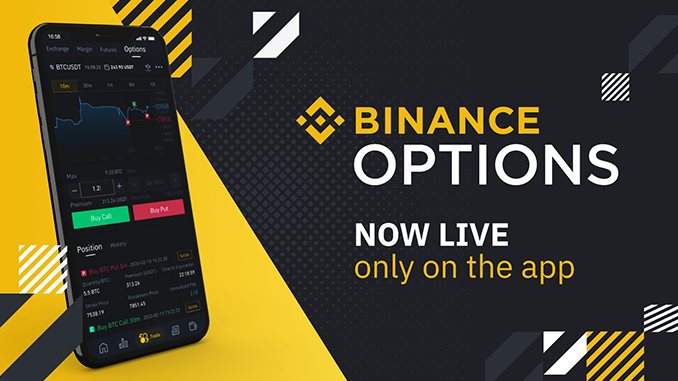 Binance started offering Bitcoin Options at the beginning of the month and is now expanding this offer to its apps. However, the crypto exchange, which is accustomed to success, must deal with criticism of pricing and transparency in this offer.
Bitcoin Options are enjoying growing popularity among day traders. The financial instrument allows bets on the future price of Bitcoin (BTC) and can bring profits even with small price movements. About two weeks ago, the crypto exchange Binance also announced its intention to enter the Bitcoin Options business. Now the option called Binance Options has also been integrated into Binance's apps, as reported in a blog post. However, traders are complaining about the conditions for Binance Options, and a community of day traders called Whalepool is even talking about "scandalous" practices on Twitter:
This is scandalous:

1. No transparency of price history (not even IV let alone greeks)

2. No risk warnings or suitability questionnaire

3. Not even really options bc only Binance issues them (at 2x market rate per Deribit)

To quote CZ: "YOU WILL LOSE MONEY ON THESE!" #bitcoin https://t.co/w3oCsEcqft

— Whalepool (@whalepool) April 13, 2020
Why Binance Bitcoin Options is under criticism
The experienced traders name three important points that they feel are of concern with Bitcoin Options from Binance:
So-called Greeks are missing from the charts at Binance. The Greeks curves allow you to see the risk involved in options trading at a glance.
Binance only displays risk premiums and fees when the trade order is almost completed. This also makes it much more difficult to assess the risk before placing an order.
Binance itself acts as the sole provider of Bitcoin Options and charges twice as much as its competitor Deribit, for example. In itself, the task of a crypto exchange would be to bring together buyers and sellers of BTC Options. Binance's entry as an active trader has at least a strange aftertaste and does not reflect the free play of the markets.
In addition, it is criticised that Binance does not make clear enough about the considerable risk involved in options trading. Although Binance's instructions state that the purchase of options is not profitable in most cases, it is very profitable in a few cases. However, this crucial hint is hidden in the last sentence, the small print, so to speak.
Still want to trade Bitcoin Options with Binance?
Of course it is tempting to enter into trading with Binance Options on your smartphone with just a few clicks, which theoretically offer infinite chances of profit. But at the current state of affairs, it is more advisable to look around the competition from Deribit or FTX. There the offers are currently fairer. Binance CEO Changpeng Zhao has not yet commented on the clear criticism of Binance Options. However, since CZ has often been prepared to make improvements at Binance in response to justified comments from customers, the last word must not yet have been spoken.
---