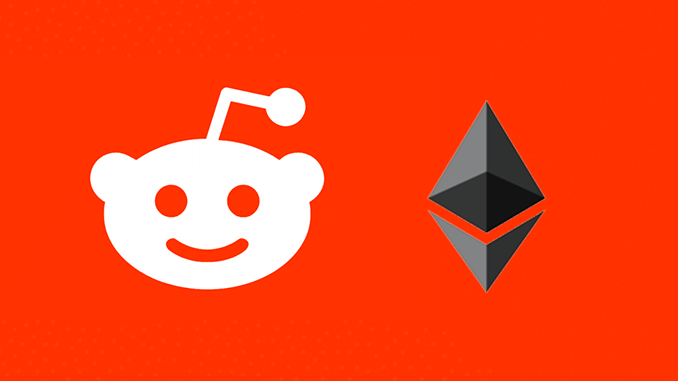 The US web platform Reddit has confirmed that it will try out whether the Ethereum (ETH) block chain is suitable for launching a new bonus program. Particularly committed users should be rewarded with premium memberships at Reddit.
Reddit believes in the ecosystem of Ethereum (ETH) – what only attracts limited attention in German-speaking countries is big news in the USA and elsewhere. This is because the platform, founded in 2005, now boasts around half a million active users who discuss special topics and exchange information in forums. The English-speaking crypto scene also makes intensive use of Reddit. Information has now become public, according to which Reddit initially wants to set up a reward system on a trial basis, not on the basis of the previous Karma Points, but on the basis of tokens with monetary value. The block chain from Ethereum (ETH) is intended as the technological basis. A short video about this can be found – of course at Reddit itself – here.
Why is a cooperation between Reddit and Ethereum so exciting?
As usual in Internet forums, Reddit also awards points to users whose contributions others consider helpful. In Reddit this is called System Karma Points. They increase the ranking of individual users, but have no monetary value. Because for Premium Memberships at Reddit you have to pay with Fiat, currently 5.99 US dollars per month. For this, there is an ad-free Reddit and some other goodies.
Now Reddit wants to test whether the concepts of Karma Points and Premium Memberships can be merged and mapped using an ETH token. The idea is that if users post content that receives particularly positive feedback, they should be rewarded for this, as should active community managers who are always active. This means that there are not only Karma Points, but also "Reddit Tokens" that can be used to pay for Premium Memberships.
Reddit could have implemented such an approach with blockchains other than those of Ethereum. But in the background, the creators of Unstoppable Domains had apparently been campaigning for Ethereum as a basis, because the first information came from their environment, which has since been confirmed by Reddit. The test run will initially be limited to a forum at Reddit, which has not yet been defined in detail. However, if we think further ahead, this could mean that Reddit will move more in the direction of ETH and the importance of Fiat will decrease.
Ethereum and Reddit – a dream wedding?
Reddit is repeatedly and temporarily blocked in countries such as China, Russia and Indonesia, and authoritarian systems do not like the free and uncensored exchange there. Therefore, a step towards a payment model for Reddit Premium towards crypto-currency is logical, nobody should have the chance to freeze or intercept payments. ETH could benefit from cooperation, because even if initially only a few Reddit users come into contact with Ethereum through the new bonus program – the advantages "tamper-proof" and "non-censurable" become clear.
Meanwhile, things have become very quiet around the Telegram Token (TON), whose basic idea actually resembled the duo Reddit/ETH. The right to freedom of expression is more important in the USA than we are used to in this country – and could now also be expressed in a Reddit-ETH token.
---