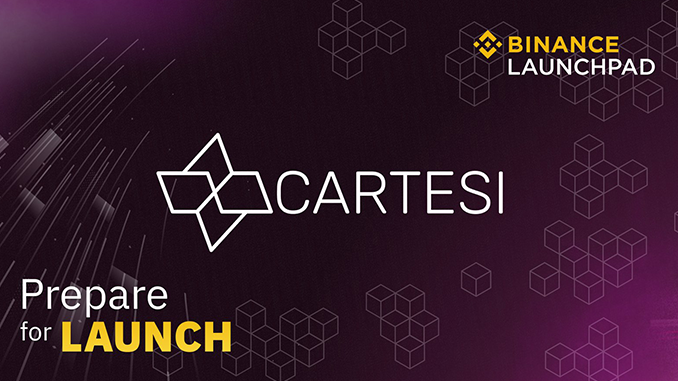 After IEOs have started a trend at Binance 2019, the world's leading crypto exchange is continuing its corresponding program: With Cartesi (CTSI), a coin is being offered which is all about the use in a new operating system for dpps.
Binance is again offering investors the opportunity to participate in an IEO (Initial Exchange Offering). This time Binance supports the Cartesi project (CTSI) at the launch. Cartesi develops an operating system under Linux tailored to DApps. CTSI is used as a means of payment for applications such as games. Cartesi has raised USD 800,000 in previous rounds of financing. Now 10 percent of all CTSI is for sale at IEO and is expected to raise USD 1.5 million. As usual with Binance's IEOs, a lottery system is used.
How does the IEO of Cartesi work at Binance in detail?
Since the IEOs at Binance have always been overwritten several times in the past, the company has switched to using lottery tickets to determine who gets the chance. In order to qualify for the allocation of lots, credit in Binance Coin (BNB) is required. The average BNB credit balance at Binance is counted in the week beginning today, from 14 to 21 April. With an average of 50 to 100 BNB – determined by daily snapshots – you will be allocated 1 ticket. Then the number of tickets is incremented in steps of 50 up to the maximum of 10 possible tickets per account, for which a minimum of 500 BNB is required.
On April 21, the tickets will be offered for sale. With each ticket you commit yourself to buy Cartesi for the equivalent of 200 US dollars in BNB if you win. There will be 7,500 winning tickets and these will be drawn on 22 April. If you are one of the winners, USD 200 in BNB per winning ticket will be automatically debited from your account with Binance and you will receive CTSI 13,333.33 in return. Cartesi will then also be traded on Binance. With previous IEOs, early investors in Binance were mainly able to realize profit-taking in the double and triple-digit percentage range. All details on the IEO of Cartesi can also be found here at Binance.
Brief background on Cartesi (CTSI)
Decentralized apps are a big topic in the crypto industry, especially Tron (TRX) and EOS score as ecosystems for DApps. The advantage of such applications: They are tamper-proof; betting and gambling, for example, are among the most successful projects to date.
Cartesi now wants to make it easier for DApps developers and is creating an operating system that focuses on this task. It runs under Linux and allows access to existing tools. The highlight of the concept is that DApps for Cartesi shifts automated communication and processing to a sidechain that only connects to the actual blockchain when financial transactions need to be confirmed. CTSI serves as a native altcoin in this ecosystem as a means of payment and will initially be released as an ERC-20 token. Cartesi has already developed a DApp with Creepts as a showcase. With Creepts players defend terrains and attack opponents. The winner of each round qualifies for the next, final winners win cash prizes.
Binance CEO Changpeng Zhao praises Cartesi as an "infrastructure project" for the crypto industry, which will prove how scalability issues can be solved and thus enable DApps to reach far more users than before. Erick de Moura, founder and CEO of Cartesi, says that his project takes DApps to where the software industry has perfected powerful tools for centralized applications for 30 years.
Is an investment in Cartesi worthwhile?
The 2019 IEO experience at Binance sends a clear signal: Whether Matic or Perlin – anyone who had winning tickets at one of the 11 IEOs in 2019 could always count on short-term profits, sometimes even by 1,000 percent. With its large customer base, Binance easily manages to foment the hype about new crypto-currencies and carefully checks the projects it supports. The detailed analysis of CTSI can be found here. The set price of USD 0.15 per CTSI seems realistic, as only USD 0.005 was called in a first seed sale in August 2017 and USD 0.10 in a private sale in spring 2019. When strategic investors were able to acquire CTSI in December 2019, they had to pay USD 0.30 per coin.
Whether CTSI can establish itself successfully in the medium term is another question. Cartesi's current roadmap foresees full functionality in the 3rd quarter of 2021, which is still about 18 months away and thus a long way in the sometimes short-lived crypto industry. However, Cartesi occupies a topic of high publicity with DApps and Games, and so anything but a success of the IEO of CTSI including short-term chances of winning would be a huge surprise.
---