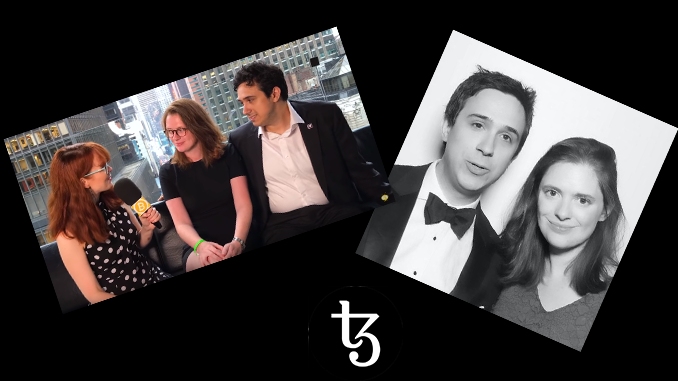 At Tezox (XTZ) there is excitement as there are increasing indications of an imminent withdrawal of Arthur Breitman and Kathleen Breitman. The couple had launched Tezos in 2017, but are no longer clear about their relationship to the project.
The cryptoscene knows a whole series of examples in which individual projects are almost inseparably linked to individuals, such as Ethereum (ETH) and Vitalik Buterin or TRON (TRX) and Justin Sun. This can be an advantage because there are clear contact persons for major investors and cooperation partners and public communication is easier. At the same time, such figureheads can also become a risk if they make mistakes or their loyalty is questioned. In the case of Tezos (XTZ), it was previously the married couple Arthur Breitman and Kathleen Breitman who have been the public face of the project from the record-breaking ICO in summer 2017 to the present day. But now more and more followers of Tezos are asking themselves: Are the Breitmans still fully committed to XTZ?
Which suggests that the Tezos founders are leaving the company
Until recently, Arthur Breitman was a member of the Technical Committee of the Tezos Foundation and was involved in the project in an official capacity. Then, however, it was noticed that his name disappeared from the website virtually overnight without any explanation. When questions about this came up at Reddit, the Breitmans simply made a vague comment and spoke of "threats".
The rumors of the Breitmans turning away from Tezos by Kathleen Breitman were further fuelled. It is known that she develops dapps for games. Previous whitepapers always mentioned Tezos as blockchain for it and XTZ as payment. But now Kathleen Breitman, threw into the ring, that the decision for Tezos in her games is by no means irrefutable. For Tezos there is no reasonable wallet and XTZ is no stable coin. To convince investors, she would consider switching to another crypto currency, said Kathleen Breitman.
A clear commitment to Tezos and XTZ on the part of the Breitmans would look different, and so Reddit channels itself questions to them and the Tezos Foundation. However, none of the people addressed have so far been able to clarify in a transparent manner what really happens behind the scenes and whether a disagreement exists. In addition to personal vanity, it is assumed that there is also a financial background, after all, the ICO had collected around 232 million US dollars.
Conclusion: Can Tezos continue without the founders?
From the very beginning, Tezos and XTZ wanted to ensure that the project would continue to develop on the basis of majority decisions and not be dominated by individuals. In this respect, an abdication of Arthur Breitman and Kathleen Breitman might be bearable and even logical. After all, Tezos is facing legal problems and the war chest of the Tezos Foundation is well filled with more than 600 million US dollars. On the other hand, it is the Breitmans who have done a great deal of persuading cooperation partners and investors. If they take their personal network with them towards the competition, support for XTZ could quickly crumble.
Investors should therefore continue to keep an eye on the situation; so far, XTZ's share price has remained relatively stable around USD 2.0. But for Tezos to continue to be perceived as serious, it would be urgently necessary to resolve the "high school drama", as one user at Reddit puts it.
---
Best place to buy Tezos: