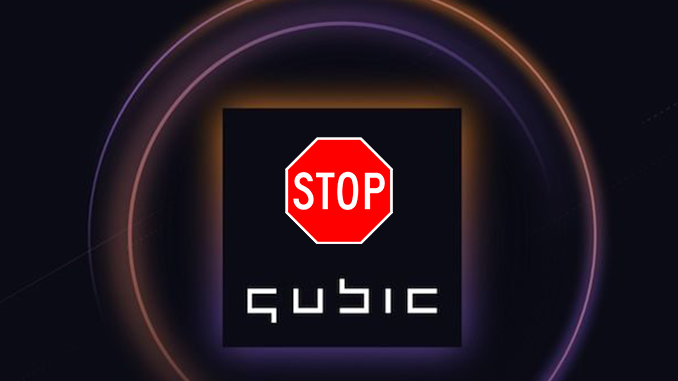 IOTA must admit a setback: Project Qubic was actually intended to add important new capabilities to its own ecosystem. Now IOTA boss David Sønstebø has announced that work on Qubic will be discontinued.
The crypto year 2020 is simply not going well at IOTA: First, IOTA Mainnet had to be suspended for about a month due to a critical security gap at the official Trinity Wallet. Now the Qubic project, which was presented in June 2018 and should bring the ecosystem for IOTA technologically far forward, is being scrapped at IOTA. In a question and answer session (AMA – Ask Me Anything), David Sønstebø, head of the IOTA Foundation, confirmed that Qubic is over. They do not have enough capacity to bring Qubic to a successful conclusion and therefore want to focus on integrating Smart Contracts into IOTA.
Why the end of Qubic at IOTA is sad
Since its start, IOTA has always scored points with investors and cooperation partners from business and research with the basic idea of becoming the standard for automated processes in the Internet of Things with Tanglenet and its own crypto currency. In the course of time, new tasks and requirements for the IOTA ecosystem have naturally emerged. These were to be met with Qubic, which stands for Quroum based calculations. In practice, Qubic, docked to Tanglenet, was to enable mainly three new functions at IOTA:
The outsourcing of computing capacity, which is important when small, low performance hardware is connected to IOTA. The idea is that Qubic could be used to order additional computing capacity for such units.
The simplified integration of so-called Oracles at IOTA, specialized hardware such as temperature sensors.
Complex Smart Contracts, which also process payments in IOTA in real time and, in the best case, should also become compatible with other block chains.
Sønstebø now says that of these three goals the topic of Smart Contracts will remain, but will be pursued under a different name than Qubic. He hopes that public testing of this will be possible in the near future. Meanwhile, Qubic's website is still online here and the technological advances made so far will be made available to interested parties.
Between the lines Sønstebø sounds rather contrite, as the disappointment from the IOTA community about the surprising and sudden stop of Qubic is clear.
Conclusion: Problems at IOTA are accumulating
The disaster with the Trinity Wallet, public quarrel between the IOTA founders and the embarrassment with Qubic – hardly a month goes by at IOTA without bad news. In addition, there is the realization that ITOA as a means of payment in the Internet of Things is by far not as accepted as hoped for.
And above all this, the Coordicide project hovers as the sword of Damocles. Sønstebø stressed that Coordicide and Qubic are not related and must be considered as separate projects. Coordicide is sticking to the timetable and expects to replace the central coordinator at IOTA with Coordicide in early 2021. This coordinator is repeatedly criticised by experts because this central authority at IOTA contradicts the principle of decentralisation. However, Coordicide has also experienced delays on several occasions and the discussion has led to bitter disputes. Some experts believe that Coordicide is technologically impossible.
Confidence in IOTA and figurehead David Sønstebø has at the very least been severely damaged, and too often pompous announcements have proved untenable. Meanwhile, IOTA's share price continues to stabilise at a low level of around 0.15 US dollars.
---
Best Place to buy IOTA