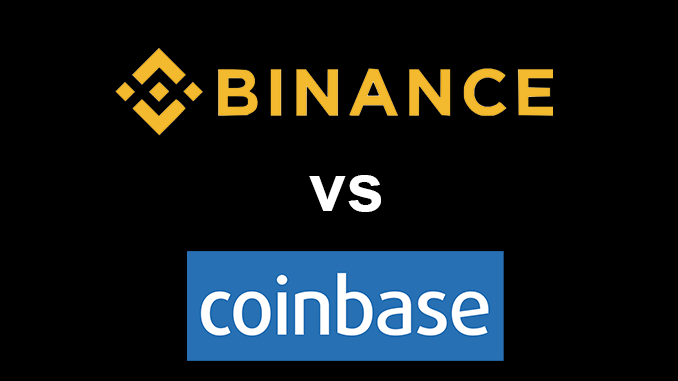 Those who start trading with Bitcoin and Co. usually have to choose a crypto exchange in the process. The two best-known ones are called Coinbase and Binance. But what are the advantages and disadvantages?
Again and again we receive inquiries about which crypto exchange we recommend. Because Bitcoin and other cryptocurrencies are usually bought and sold on specialized platforms. With Coinbase and Binance, two crypto exchanges have become the first port of call for investments worldwide. We will now show you the differences between Binance and Coinbase in a practical way and make your decision easier.
1. The history of Coinbase and Binance
Coinbase was founded in the USA back in 2012 and has since pursued an international expansion course. For the German market, Coinbase maintains an office in Frankfurt am Main and thus fulfills all regulatory requirements. The long-standing success of Coinbase has led to this crypto exchange itself preparing an IPO. In doing so, Coinbase can expect a mid-double-digit billion dollar sum as valuation. With its business model, Coinbase is thus on its way to becoming a listed company.
Binance, on the other hand, only started in 2017 with Chinese founders. Legally, Malta is Binance's headquarters, while Germany is served from an office in Berlin. Binance also takes regulatory requirements seriously and offers its services in this country completely legally. Binance is organized as a private company and there have never been any plans to finance further expansion through an IPO. Binance had funded its launch by issuing its own cryptocurrency called Binance Coin (BNB), which brought in $15 million. BNB as a discount token for lower fees when trading on Binance remains a specialty, the positive price curve of BNB reflects the success of Binance.
True, it is hard to award points for historical background in the Binance vs. Coinbase duel. But in this discipline, Coinbase has a narrow lead due to its longer existence and the announced IPO.
2. Coinbase and Binance in figures
Coinbase reports more than 35 million customers worldwide who have moved a combined total of more than $320 billion in cryptocurrency trading. Binance is stingy with official user numbers, but points to more than $10 billion in daily trading volume. This has earned Binance the number one spot as the highest-turnover crypto exchange in the world. As a customer, you benefit from the fact that Binance has very high liquidity, which guarantees fair market prices and also the possibility to place large trades without any problems. Therefore, we see Binance as having an advantage over Coinbase.
3. Currencies at Coinbase and Binance
In its basic version, Coinbase is designed as a platform where leading cryptocurrencies can be traded against fiat, which means euros for Germany. As of January 2021, Coinbase supports a good three dozen other cryptocurrencies for direct buying and selling in euros in addition to Bitcoin trading. These include values such as Ethereum (ETH) and Litecoin (LTC), which are basically all important altcoins. Not offered, however, is the trade of IOTA, a cryptocurrency known and popular in Germany due to its foundation seat in Berlin.
Binance started as a trading platform for crypto-to-crypto and initially treated fiat currencies stepmotherly. However, they have readjusted this and now offer direct trading against euros for a good dozen cryptocurrencies, including Bitcoin, of course. Basically, however, Binance continues to mainly target traders who conduct their business without fiat. Several hundred cryptocurrencies are listed on Binance and the number of currency pairs runs into the thousands.
Thus, there is a differentiated differentiation in this discipline. For beginners who want to calculate directly in euros, Coinbase is the crypto exchange with more variety. Those who can say goodbye to euros as the base currency will fare better with Binance, which offers considerably more trading options.
4. Fees at Binance and Coinbase
Coinbase charges comparatively high fees for its services; in the basic version of Coinbase, up to 4 percent fees are charged for deposits and withdrawals in euros via credit card, and the fees for trading itself are also in the upper range with up to 1.5 percent of the volume. Money can be saved at Coinbase if you choose normal transfers for deposits and withdrawals, which involves a waiting period of one to two days, but also only costs 0.15 euros per transfer.
Binance accepts deposits in euros via bank transfer free of charge and charges 0.50 euros for withdrawals. When using credit cards, Binance charges 1.8 percent. In the actual trading of cryptocurrencies, Binance usually charges 0.1 percent fees, which can be significantly reduced by using BNB.
When it comes to fees, Binance is thus clearly cheaper than Coinbase as a rule, and Binance has honestly earned this point.
5. User friendliness of Coinbase and Binance
Of course, every user of online services has his own ideas about what is meant by user-friendliness. But if you want to get started with crypto trading without any prior knowledge, Coinbase is the best choice. The interface is clearly structured and the basic functions are intuitively explained. Coinbase is largely available in a German version.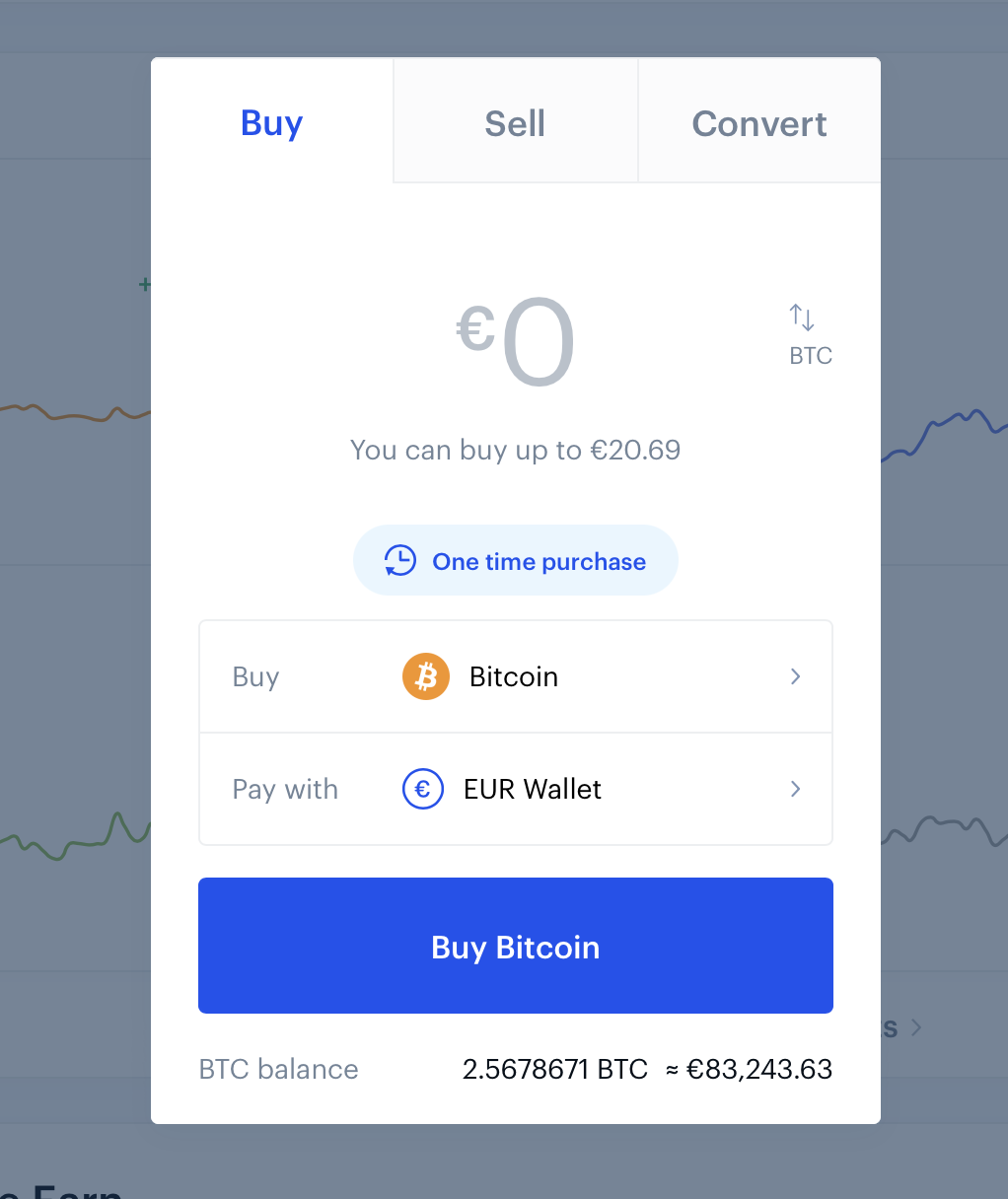 Binance has a slightly harder time when it comes to starting crypto trading as an absolute newcomer. Even in the basic version, the trading pages can be confusing at first glance with their many details on order books, price developments and more. When looking at the German help pages, you will not always find what you are looking for at Binance.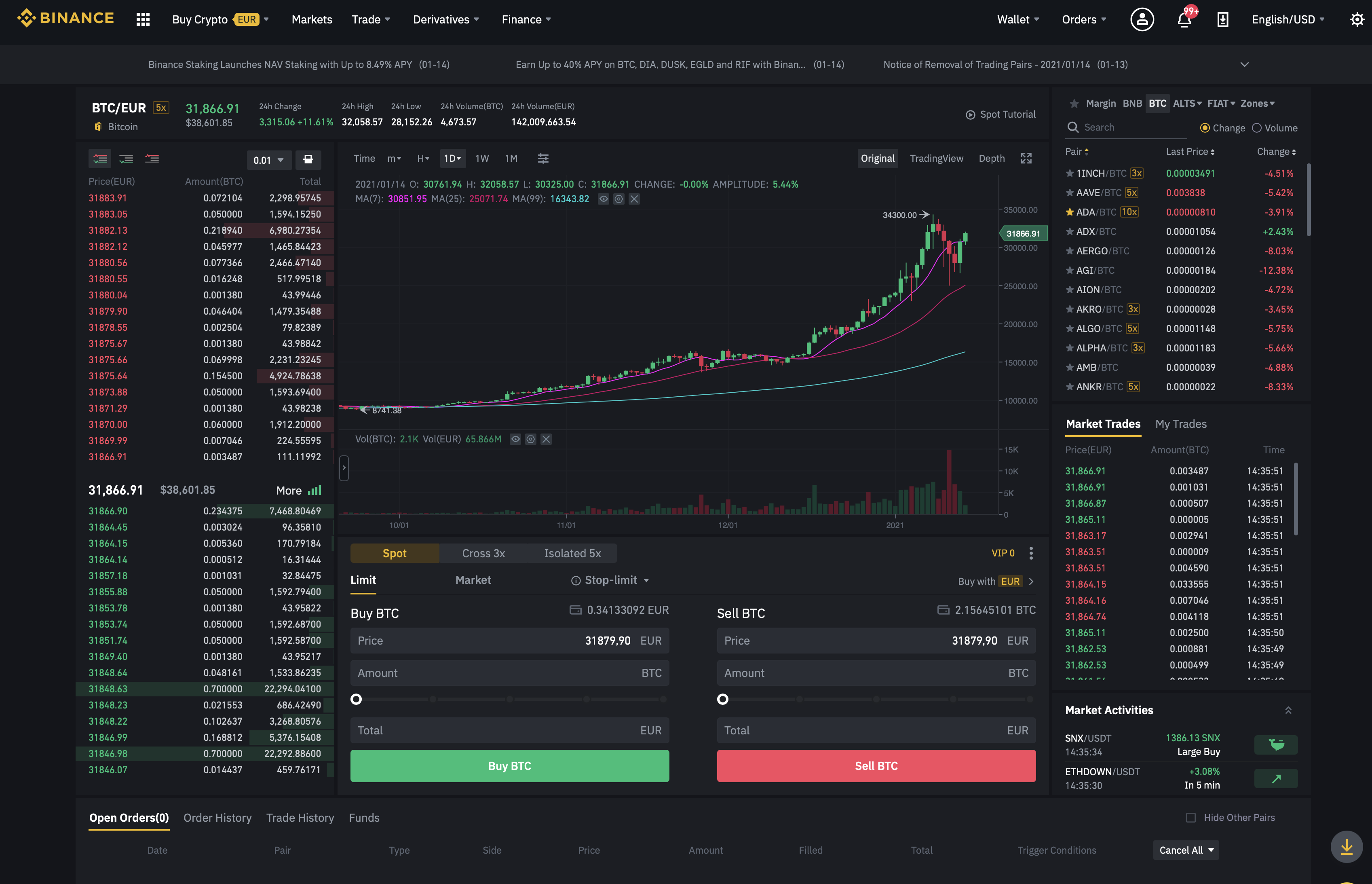 In this respect, we see Coinbase as somewhat more user-friendly for those who have never dealt with the topic of exchange trading. Those who are no longer completely green behind the ears or have the patience to familiarize themselves with the subject matter will quickly be satisfied with Binance.
6. Security at Coinbase and Binance
First things first: both Coinbase and Binance explicitly encourage customers to use two-factor authentication. While this should really be obvious to everyone anyway for money transactions, it apparently needs to be repeated. Everyone has to organize this part of account security themselves. Even though two-factor authentication may seem a bit inconvenient at first, this is indispensable and irreplaceable in what you yourself can contribute to security at Coinbase and Binance.
The second part of the security concept for crypto exchanges lies with the providers themselves. Coinbase and Binance store almost 100 percent of their customers' crypto assets in so-called cold wallets, which makes it impossible for cyber criminals to access them. The part of the cryptocurrencies that is currently moved in trading is additionally insured by Coinbase, according to its own information. Binance, in turn, has set up a fund under the name SAFU in order to be able to pay damages quickly and unbureaucratically in the event of an incident.
We can state that Binance and Coinbase deal with the issue of security in an exemplary manner and only differ in details. The security standards of Coinbase and Binance are by far higher than those of many smaller crypto exchanges. As long as you take care of the security of your private sensitive account credentials yourself and use two-factor authentication, you can assume that your money and cryptocurrency assets are safe with Coinbase and Binance.
7. Other services of Coinbase and Binance
Binance and Coinbase also provide free apps for Apple and Android in addition to the desktop version. These are mostly positively reviewed by users and are constantly being developed. So, you can use the services of Coinbase or Binance from your smartphone at any time.
Both crypto exchanges also offer credit cards for their customers. We see here the Binance crypto credit card overall in its conditions with advantages compared to the package that Coinbase puts together for its credit card.
If you want to trade crypto intensively, you will quickly move from the basic version to Coinbase Pro at Coinbase. But even then, the range of additional services offered doesn't come close to what Binance now offers in its own ecosystem, from DeFi to Markig Trading to IEOs (Initial Exchange Offerings) and more.
8. Video
We also made a video about all the points discussed in this article.
Conclusion: Coinbase and Binance – both are very good crypto exchanges.
Let's make it short: The competition for the best crypto exchange does not find a clear winner in Coinbase versus Binance, but knows two winners. For the very first start with Bitcoin, Coinbase is probably the recommendation. In the long run, however, you will end up there with Coinbase Pro and find that Binance offers more options with lower fees. We recommend both crypto exchanges with a clear conscience. With both Coinbase and Binance you are on the safe side when choosing your crypto exchange.
---
Open a Binance Account here and save 10% on fees for a lifetime.