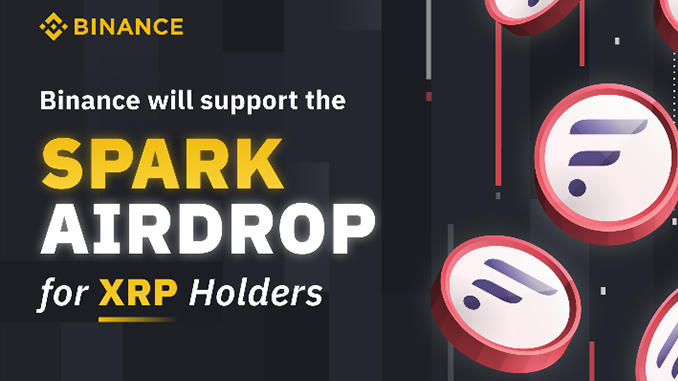 Those who hold Ripple (XRP) on December 12, 2020, can receive the new DeFi Token Spark for free. This will then be distributed by airdrop. Now also the world-wide largest crypto stock exchange Binance takes part in the action.
Ever more clearly it turns out that the recent price gains with Ripple (XRP) were initiated by the soon taking place Launch of the new DeFi network Flare with associated Altcoin Spark. After all, Flare advertises that in the event of an airdrop on December 12, 2020, Spark will be paid out to almost everyone who will then hold XRP and qualify for the promotion. So far, eToro has been the easiest way for investors to benefit from the AirDrop for XRP. But now the competition from Binance has announced in a blog post that they will technically handle the Spark Airdrop for those customers who have Ripple on their accounts.
Spark for XRP at Binance – how it works
Binance once again lives up to its reputation as a customer-friendly crypto exchange. Because basically, with Binance, you don't have to do anything else but hold XRP to get to Spark. Binance will start on December 11th at 23:00 German time to take a so-called snapshot of the customer accounts with XRP and complete it by 01:00 German time on December 12th. All balances of more than 10 XRP at Binance that are not on margin accounts or used for crypto loans at that time qualify for Spark's airdrop. If Binance then receives Spark from Flare, they will be distributed without fees according to the individually qualified XRP.
Meanwhile, Flare has clarified that, as of December 12, 15 percent of the claimed Spark will be distributed initially. The other promised Spark will be distributed later month by month, which will take between 24 and 35 months. In the end, there should be at least one Spark for each XRP. Of course, your XRP will still remain with you.
Conclusion: Binance facilitates participation in the Spark AirDrop for Ripple
As reported, the concept of Flare is exciting: As DeFi platform with focus on Ripple one wants to create a large-scale alternative to the ecosystem of Ethereum (ETH), where so far the lion's share of DeFi takes place. After the Airdrop, we will see whether this really meets with approval. Binance stresses that the implementation of the Airdrop does not automatically mean that Spark will be listed later. But if XRP is already in your portfolio anyway, you don't risk to request your Spark automatically and conveniently via Binance. The situation is different if you are toying with the idea of buying Ripple at prices you haven't seen for a long time. Because it is quite possible that the current soaring of XRP will crash again, even if the hype about Flare and Spark has subsided.
---
Open a Binance Account here and save 10% on fees for a lifetime.