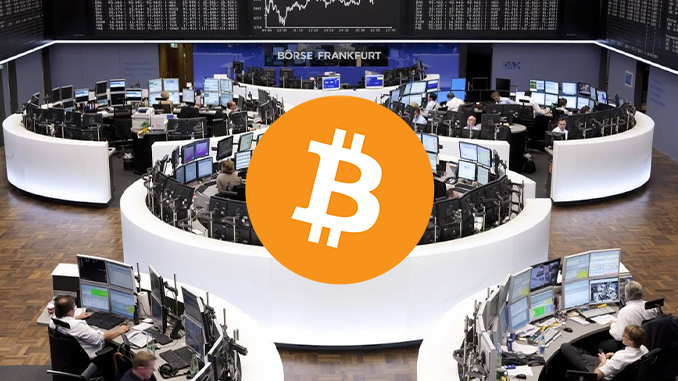 In line with the Bitcoin boom, BTC is entering Xetra on the German Stock Exchange via the financial instrument ETN. The security was launched by the renowned US company VanEck. The VanEck Vectors Bitcoin ETN is physically backed by BTC.
Institutional investors in particular still find it difficult to find suitable opportunities for investments in Bitcoin (BTC). Typical financial instruments such as Bitcoin ETFs or Bitcoin Futures are still rare on traditional exchanges. With VanEck Vectors Bitcoin ETN, the first crypto-ETN now debuts on the German stock exchange Xetra and the Frankfurt Stock Exchange, according to a press release.
Background on VanEck Vectors Bitcoin ETN at Deutsche Börse
SETNs (Exchange Traded Notes) are securities which basically mean a bond. VanEck Vectors Bitcoin ETNs are secured by genuine BTCs, which are held in cold wallets by Bank Frick, domiciled in Liechtenstein. The capital that flows into the Bitcoin ETNs is used to purchase additional BTCs. The annual management fees for VanEck Vectors Bitcoin ETNs are two percent. The recognized MVIS CryptoCompare Bitcoin VWAP Close Index is used as the basis for the price of BTC. Trading is conducted in Euro, but the underlying Bitcoin price is measured in US dollars.
A glance at the official webpage for trading VanEck Vectors Bitcoin ETN may take your breath away. This is because there you can see prices of less than 10,000 euros, which is far from the current quotation of BTC at around 15,000 euros. The explanation: When the stock exchange prospectuses for VanEck Vector's Bitcoin ETN and thus the launch were prepared, BTC was not yet as strong as it is now, but the initial price at that time is still valid as a theoretical indicator.
Conclusion: Hope for Bitcoin ETFs in the USA is growing again
VanEck, like others, has so far failed in the USA to get the green light from the regulatory authorities for Bitcoin ETFs. With the approval of comparable products in the EU the hope is connected to become present in a further attempt also in the USA. At the German Stock Exchange, by the way, a Bitcoin BTCE launched in the summer proved to be quite successful and is attracting double-digit million volumes on many trading days. Experts agree: (Indirect) listings of Bitcoin on classic stock exchanges do BTC good overall, as they make access easier for new investors.
---
Best place to buy Bitcoin: