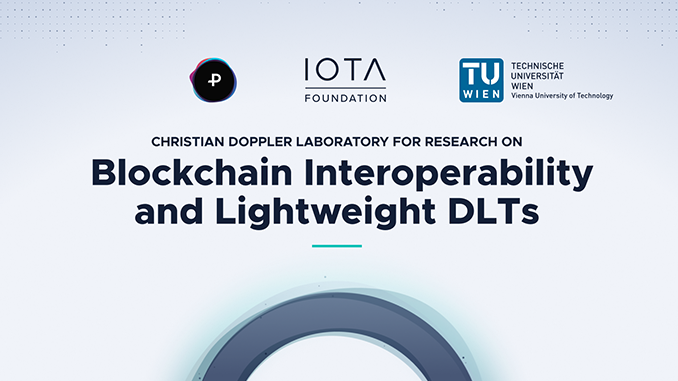 IOTA cooperates with University of Vienna and Bitpanda/PantosResearch is now being conducted in a new laboratory at the Vienna University of Technology on the future of blockhain technology in the Internet of Things (IoT). The IOTA Foundation and the Bitpanda crypto exchange are on board.
The IOTA Foundation is participating in a multi-year project at the Vienna University of Technology, where a new research project "Blockchain Technologies for the Internet of Things" has now been launched. In addition to the Christian Doppler Society, the Bitpanda Crypto Exchange is also involved through its research group Pantos. Head of the laboratory Prof. Stefan Schulte explains in a press release the two main focuses which are to determine the work:
A problem with the use of blockchains in interaction with the Internet of Things (IoT) is therefore the hunger for resources. Small devices like battery operated temperature sensors reach their limits when connected to a block chain. The new Christian Doppler Laboratory wants to investigate how IoT blockchains can be designed more easily and thus get by with less energy. IOTA already has some experience in this field through industrial cooperations and is already trying to keep the technological basis of the network open for small devices during the transition to IOTA 2.0.
Schulte defines interoperability as a second research goal. IoT already contains various block chains that are normally not linked to each other. With the upgrades to IOTA 1.5 and 2.0 announced for 2021, IOTA sees itself in a good position here too, which should in principle provide interfaces for networking with third-party block chains.
Optimism in IOTA and Bitpanda for Vienna IoT Laboratory
In Corona times, the opening of the laboratory could only take place virtually. The IOTA Foundation quotes its board member Dominik Schiener with greeting words in which he speaks of an honor. IOTA is pleased to strengthen its presence in Austria.
According to the blog post, Vienna-based Bitpanda expects synergies between academic research and the practical experience of the IOTA Foundation and Pantos, the research branch of Bitpanda.
The Austrian Minister of Economic Affairs and Research, Dr. Margarete Schramböck, cited keywords such as Industry 4.0, Smart City and Smart Home as examples to which research results from the Christian Doppler Laboratory will be applied.
Conclusion: IOTA Foundation strengthens presence in science
It is true that only a fraction of the results from the universities' think tanks usually arrive in practice later. But the IOTA Foundation does well to put out its feelers in all directions in order to benefit from cooperation in terms of content and to promote its ecosystem. The time-honored Vienna University of Technology is certainly not a bad place for this. Whether this will ultimately also help MIOTA, its own crypto-currency, which is probably the most important topic from an investor's point of view, is, however, a completely different question.
---
Best place to buy Bitcoin and IOTA: