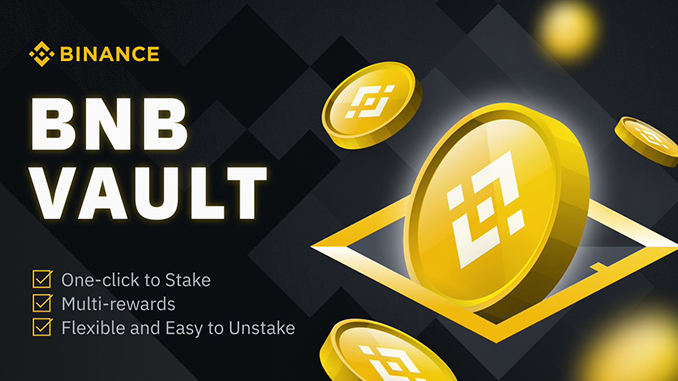 The crypto exchange Binance is launching a new program to make holding Binance Coin (BNB) attractive. Binance Vault advertises with 5 to 8 percent targeted annual interest rate and easy handling.
Binance, the world's leading crypto exchange, has created a new offer with Binance Vault, which combines various possibilities to earn interest automatically with crypto. Binance Vault is based on deposits in Binance Coin (BNB), the concept is explained in a press release Extrapolated from this, an annual interest rate of between 5 and 8 percent can be expected for the provision of BNB. In addition, credits in Coins are currently being launched in Binance Launchpool. These are currently CertiK (CTK) and Hard Protocol (HARD).
How does Binance Vault work?
To participate in Binance Vault you need BNB. There is neither a minimum nor a maximum number of BNBs that can be invested in Binance Vault. You transfer BNBs into Binance Vault by clicking on this webpage.
From then on, your BNB will automatically earn interest for you. Binance Vault transfers you to Flexible Savings, DeFi Staking and the Launchpool in the background, without you having to worry about it any further. You can withdraw your BNB from Binance Vault at any time. Interest is generated from the second day of your investment. The payout of this interest in BNB and additional Altcoins from the Launchpool starts on the third day after your deposit and is done daily from then on.
Should I deposit BNB in Binance Vault?
Binance emphasizes that BNBs deposited in Vault continue to count for other offers such as the IEOs of Binance Launchpad. So with Binance Vault you do not risk jeopardizing other BNB benefits. According to the information currently available, there is a strong case for bringing existing BNBs into Binance Vault.
Whether the targeted annual interest and additional coins justify investing in BNBs especially for Binance Vault is another question. For deposits in Bitcoin (BTC), for example, Binance advertises an expected annual interest rate of a good 13 percent.
Conclusion: Binance Vault – exciting offer for BNB HODLer
Binance Coin has become an integral part of the top ten most important crypto currencies and is actually a must for investors who have chosen Binance as their preferred platform. With the simple procedure of Binance Vault, you have the opportunity to let your BNB earn interest as easily as possible. And Binance demonstrates once again that you can bring innovative financial products to the market at a high pace.
---
Open a Binance Account here and save 10% on fees for a lifetime.