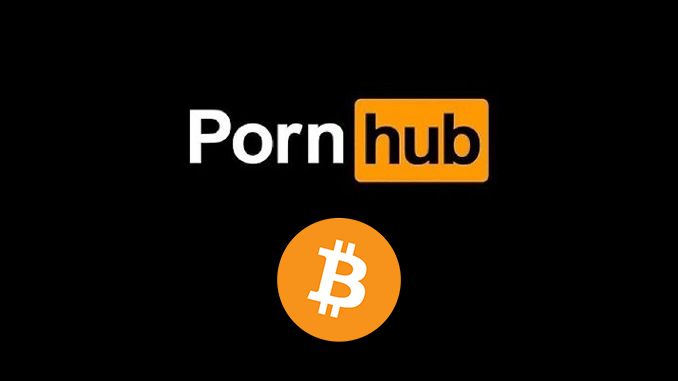 Pornhub, one of the leading providers in the online erotic market, now also supports Bitcoin (BTC) and Litecoin (LTC) as payment methods for its premium content. Up to now, these were limited to Verge (XVG).
The discussion about the practical suitability of Bitcoin for everyday payment processes has been accompanying BTC for years, and many see it as an indication of the future prospects of the mother of all crypto currencies. At least headlines guarantee in this connection the message of Pornhub on Twitter that one accepts from now on also Bitcoin (and Litecoin), if a Premium membership is subscribed. Without explicitly mentioning this, Pornhub of course knows: Payments in BTC or LTC guarantee much more discretion than the credit cards otherwise used – an argument that could convince many a Pornhub customer.
Crypto currencies at Pornhub
Pornhub is one of the ten websites in the world that generate the most traffic, and among the three largest erotic platforms. Problems with payment service providers are known from Pornhub, PayPal, for example, had already broken away at the end of 2019, which was heavily criticized by Pornhub. Already since 2018 Pornhub accepts the crypto currency Verge (XVG) from customers, but this old coin is stuck in a niche and not very common. For Models and other content providers, Pornhub has also offered the option since the beginning of the year to have fees and profit sharing paid out in Tether (USDT).
Bitcoin and Co. in the porn industry
The sale and provision of erotic and pornographic content is a multi-billion euro business, and in Germany alone is estimated to generate annual sales of more than one billion euros. But the boundaries between adult entertainment and dirty corners are blurred, which is why many financial service providers find it difficult to be active in this sector. Crypto currencies such as Bitcoin are to that extent a way, in order not to be dependent on classical payment ways.
Besides the business with bare skin is often considered as technological innovation leader. Whether "freemium" models or virtual reality, whether previously DVDs or even erotic computer games – the industry usually fills new technological possibilities with content faster than others. In this respect, the integration of Bitcoin and other crypto currencies in payment and payment processes is a logical step.
Conclusion: Bitcoin a porn currency?
Enlightened minds will presumably approve of Pornhub's commitment to Bitcoin and see it as a further example of how BTC arrives in everyday life. After all, global chains like McDonalds or Starbucks are also looking into how they might accept Bitcoin. More prudish citizens, on the other hand, might once again think that Bitcoin is somehow a currency for dirty business. Studies show that the share of Bitcoin businesses in illegal environments is at best one percent of all sales made with BTC and is declining. But this camp probably also forgets that Pornhub in itself acts legally.
---
Best place to buy Bitcoin: