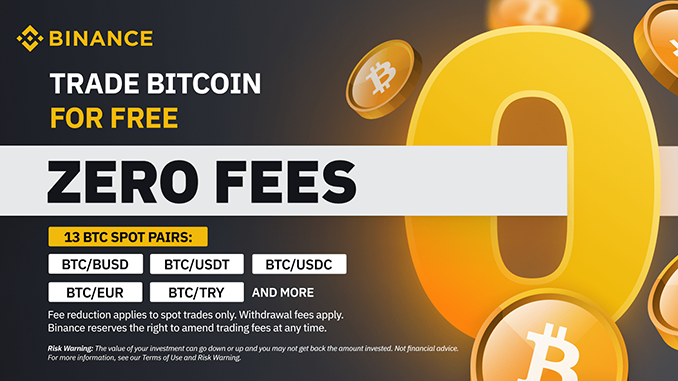 The world's leading crypto exchange Binance is currently advertising zero fees when trading Bitcoin (BTC) with selected fiat currencies and stablecoins. Binance immediately responds to justified criticism of the program.
The world's largest crypto exchange Binance is celebrating its fifth anniversary this summer and has come up with an attractive promotion for its customers. In an announcement, Binance announces that it will waive fees on certain frequent deals involving Bitcoin (BTC) until further notice. In detail, these are trading pairs of Bitcoin with important fiat currencies such as US dollars or euros, as well as with the stablecoins USDT, BUSD, TUSD, USDC and USDP. Even though Binance charges very low fees anyway – fee-free for typical trading pairs with Bitcoin noticeably saves customers money. Since Binance attracts the largest volumes globally in the spot market for Bitcoin, fair pricing for BTC is ensured.
But criticism of the move came for other reasons. Zero fees would attract abuse for wash trading quasi automatically and could also run in the wrong direction if artificially created turnover is to improve the VIP status at Binance. Binance listened to the criticism and followed up with service notices, which should prevent abuse of the Bitcoin fee-free promotion.
In addition, CZ (Changpeng Zhao), as founder and CEO of Binance, commented on Twitter. Artificial intelligence (AI), he said, helps Binance detect and block self-trading in Bitcoin. This even takes effect when attempts are made to organize such deals through multiple accounts in the direction of wash trading, CZ said. Wash trading is attempted, for example, to provoke targeted price movements through high turnover and to profit from them. The arguments and explanations of CZ apparently work, because in a poll organized by him, a clear two-thirds majority votes not to stop the fee-free for the described Bitcoin trading at Binance.
Bottom line: buy bitcoin without fees at Binance now.
The restrictions on fee-free buying and selling of Bitcoin quickly introduced by Binance were right because they are meant to keep black sheep away from trading. But more important for you is that you can currently buy Bitcoin at Binance without additional costs, even directly for euros. For the time being, Binance has thus secured a unique selling point in the competition between crypto exchanges, which pays off directly for existing and new customers. And if you build your strategy on Binance broader than on Bitcoin against fiat or stablecoins, you can easily save ten percent fees via our link.
---