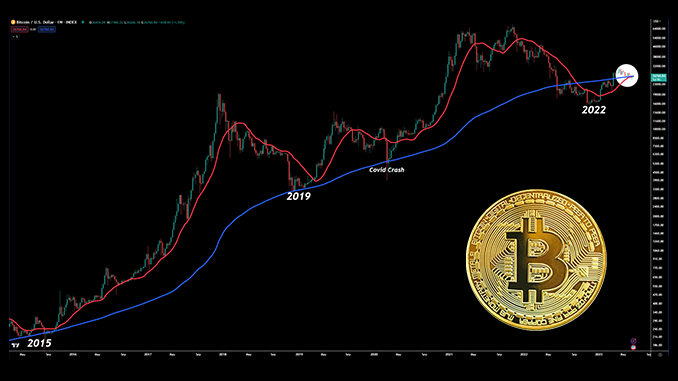 The cryptocurrency Bitcoin (BTC) has exceeded the critical price mark of 30,000 US dollars during the night. Technical analysis of Bitcoin's price curve allows positive forecasts towards a rally.
The psychology of the crypto markets is once again showing its own face: the lead currency Bitcoin (BTC) is quoted at a good 30,000 US dollars this Thursday morning and has thus taken a psychologically important hurdle during the night. That this positive signal from Bitcoin comes at a time when the US regulator SEC has virtually declared war on the crypto industry may come as much of a surprise. But recently, technical analyses of Bitcoin's price curve already attracted attention, suggesting optimistic forecasts.
On Twitter, for example, "Moustache" posted a chart, which he captioned "Golden Cross". Bitcoin is about to go through such a "Golden Cross" for the first time in its history, "Moustache" writes further. Among professional traders, such a "Golden Cross" is the technical term for price developments where the short-term trend of an asset crosses the long-term trend. "Moustache" has here put the price curve of Bitcoin over the last 20 days in relation to that of 200 days. As of today, Bitcoin has made the "Golden Cross." Technical analysts see this as a fairly reliable sign that Bitcoin can now break out further to the upside and a bull market will begin.
"Rekt Capital" is also a follower of technical analysis on Twitter and drew his picture on Bitcoin a few days ago. There he recommended to wait for the end of the week to confirm a positive trend in Bitcoin. This is because "Rekt Capital" bases his technical analysis on weekly trends. However, today, Thursday, he already proclaims the Bitcoin season on Twitter, which in the crypto scene stands for a rally in BTC. "Rekt Capital" reminds that in the past a bull ride in Bitcoin leaves altcoins behind for some time and then the market dominance of BTC rises.
Conclusion: Positive Signals from the Bitcoin Price Curve
No one can reliably forecast whether Bitcoin's current soaring price is just a flash in the pan after all. As always, we recommend doing your own research and considering technical analysis as just one of many possible tools. But one note is allowed: in crypto markets around the world, the SEC's rigorous approach has forced reflection. And while the SEC already wants to regulate more than 50 cryptocurrencies as securities ("securities"), it has always granted Bitcoin a special status and therefore does not want to interfere with BTC. So if crypto markets do indeed pick up steam, it is likely that Bitcoin will be the first to benefit disproportionately.
---