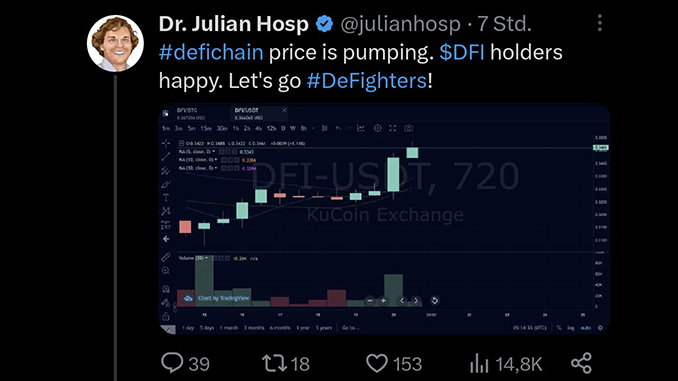 Julian Hosp is an irritant figure in the crypto scene. Projects in which he was involved have brought many investors big losses. Now DeFiChain (DFI) and the alleged stablecoin DUSD are on a downward slide.
Those who follow the Twitter account of Julian Hosp might get the impression that things are going well for the supposed multi-millionaire and his crypto projects. DeFiChain (DFI) is apparently overtaking the cryptocurrency Bitcoin (BTC) in terms of price development. And the fact that the "stablecoin" Decentralized USD (DUSD), which belongs to the same ecosystem, is now quoted at less than 0.40 US dollars, will settle down again. However, our archives contain reports of how Julian Hosp has already crash-landed in the past, costing investors a lot of money, such as TenX or the Lyoness pyramid scheme.
So let's not look through the rose-colored glasses of crypto guru Julian Hosp for once, but at the sober facts. DeFiChain has fallen back to around $0.36, according to data from CoinMarketCap, more than 90 percent off its all-time high. Twitter user PlebAdi amuses the community with a picture game – after all, Hosp appeals to "DeFighters" who should please drive the price. But the price curve of DeFiChain does not even reflect the more recent upswings in the overall crypto market. To seasoned observers, DFI thus looks like a project whose death race is underway. Julian Hosp sees it differently. As a precaution, DeFiChain's official web presence does without an imprint altogether.
We already reported on the difficulties of Decentralized USD (DUSD) here almost exactly a year ago. At that time, the alleged stablecoin was trading at just under $0.80 – today it is $0.36. To be on the safe side, we would like to remind you that a stablecoin is supposed to represent a fiat currency 1:1, in this case the US dollar. Normal for DUSD would therefore be a quotation around 1.00 US dollar. Julian Hosp and his team can only imagine how this will ever be achieved again.
Conclusion: Julian Hosp is again in trouble – but Cake DeFi is now called Bake
Last summer, we also warned about DeFiChain, DUSD and the ecosystem that Julian Hosp tirelessly promotes. Latest stroke of genius from Hosp and allies: Cake DeFi has been renamed Bake, with Hosp promising on Twitter that it "ushers in a new era of financial empowerment." I wonder if he means himself. Bitcoin expert Matthias Reder notes – without winking: "Once the name has been "burned", rebranding should probably obviously help". We would like to add to this: Please stay away from DeFiChain (DFI), DUSD, Bake or all the other projects Julian Hosp supports with his name. The past has taught painfully that something always goes wrong with Hosp's projects and big losses are imminent.
---