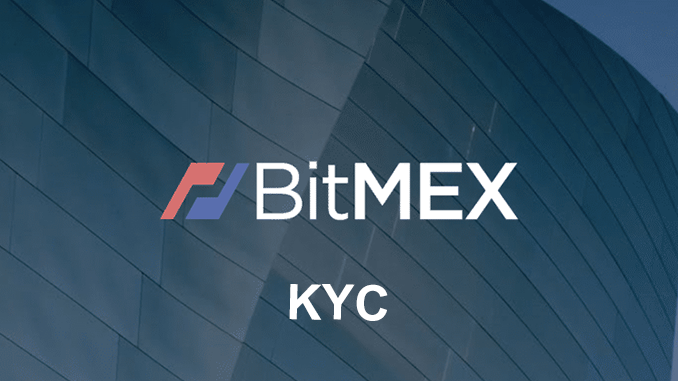 The BitMEX crypto exchange is stepping up the pace when it comes to identity verification for customers. Actually, KYC was only supposed to become mandatory at BitMEX from February 2021, but now deadlines for November 5 and December 4, 2020, apply.
BitMEX made headlines in early October because the founders are to be taken to court for unfair business practices in the USA. In the meantime, the management personnel has been replaced and BitMEX has obviously made identity verification a priority in order to come clean with the US authorities. Know Your Customer (KYC) is already implementing the majority of crypto exchanges to prevent or track money laundering, terrorist financing and similar practices. BitMEX, however, had ignored KYC for years and only announced in August that it would make such identity verification mandatory. The original timetable was tightened now however clearly, BitMEX explains the new rules in a Blogpost.
What customers of BitMEX to KYC must know now
November 5, 2020, i.e. already in two weeks, is the first deadline for BitMEX customers. Anyone who has not completed the identity check by then will no longer be allowed to open new trading positions and will not be able to change current orders.
On December 4, 2020 BitMEX will then also block the payout function for customers who have not gone through a KYC. BitMEX will seek direct contact with customers who still hold open positions in BitMEX after December 4, 2020 without KYC in order to close such trades.
According to BitMEX, more than 50 percent of all customers have already passed the identity check after the first call to KYC. So far, however, February 12, 2021 was set as the date for the deadline, after which nothing will work without KYC at BitMEX. To avoid problems, you should therefore take action now and either redeploy your capital from BitMEX or accept KYC.
Conclusion: BitMEX – anonymous traders will be left out in the future
BitMEX has specialized in trading with derivatives and is one of the three largest crypto exchanges worldwide in this field. At least some of the customers probably appreciated being able to act anonymously with BitMEX. Actually, it was already recently surprising how casually BitMEX dealt with the rules on KYC prescribed by state authorities. BitMEX is now losing the unique selling point of "anonymity" among the major crypto platforms in order to maintain its business in the USA and elsewhere. The coming weeks will show whether BitMEX will lose customers and liquidity on a larger scale due to KYC.