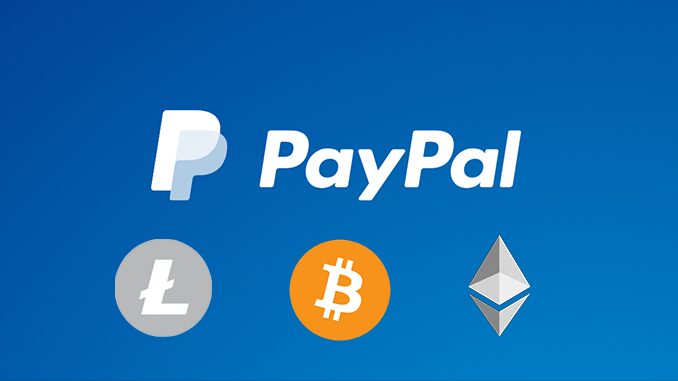 Bitcoin (BTC) and three further crypto currencies will be integrated into the offer of the payment service provider PayPal. The offer is rolled out first in the USA, further countries are to follow 2021. With more than 300 million customers PayPal is the industry leader for online payments.
Good news for Bitcoin (BTC): With PayPal, one of the largest global payment service providers is initially integrating four crypto currencies into its offers. Beside BTC these are Ethereum (ETH), Litecoin (LTC) and Bitcoin (cash (BCH). The announcement of PayPal provided for clear course increases: LTC increased by 13 per cent, BTC and ETH by well 4 per cent, BCH shows a plus of 7 per cent. Also the share price of PayPal registered a good 5 percent plus after the crypto offensive became known.
Background to Bitcoin and Co. with PayPal
PayPal has received a so-called Bitlicense from the New York Financial Services Authority, which entitles it to store and trade Bitcoin and Co. U.S. customers are to receive in the coming weeks the possibility of buying, holding and selling Bitcoin, Ethereum, Litecoin and Bitcoin Cash via their customer account with PayPal. Paxos Trust Compay was won as a partner for this. This had already been expected before in media reports. Until the end of this year the new service is to be offered free of charge.
At the beginning of 2021, PayPal plans to include online merchants in the new crypto division. They can then receive BTC, LTC, ETH and BCH at no extra cost, but will receive Fiat in local currencies as usual. The exchange of crypto is handled by PayPal. PayPal says it will expand its crypto program for private customers and merchants to "selected countries" in 2021, which hopefully is also the EU's intention.
Shortly PayPal wants to activate information pages that explain blockchain technology to customers and explain the risks and opportunities of crypto currencies. PayPal wants to eliminate possible problems caused by high exchange rate fluctuations by offering its own risk management for customers and partners. With more than 300 million customers and 26 million connected merchants, PayPal has built up a network worldwide, which in many places has hardly any direct competition in online trade apart from the Chinese service provider Alipay. In 2021 PayPal wants to expand the new crypto division to its subsidiary Venmo.
Result: PayPal pushes Bitcoin
The effort of PayPal to integrate Bitcoin and selected Altcoins was already open secret since the summer. In 2019 PayPal had withdrawn from Facebook Libra, although the company was one of the founding members of the consortium for a privately organized Stablecoin. What PayPal is now offering has little to do with a digital Stablecoin, however, because the selected crypto currencies are all four volatile.
PayPal serves rather customer's requests to participate in the topic Bitcoin. In the USA for instance the trading platform Robinhood earns millions with the Kryptohandel by fees, in this country for example Revolut scores with comparable offers. In the first step, PayPal customers are enabled to buy crypto easily and conveniently and to bet on price increases. Experts expect that thereby fresh capital flows toward Bitcoin. It remains to be seen whether and to what extent BTC, ETH, BCH and LTC are then actually used via PayPal as (indirect) means of payment. The crypto industry is pleased in any case that with PayPal a large established Zahlungsdienstleister opens its doors for Kryptowährungen and might strengthen so the acceptance of Bitcoin.
---
Best place to buy Bitcoin: