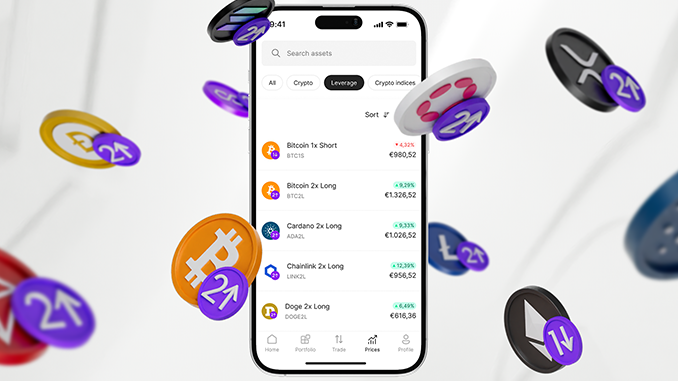 Bitpanda is expanding its range of crypto trading services at a fast pace this year. As of now, there is also Bitpanda Leverage Trading, i.e. trading Bitcoin and Co. with leverage. How does it work?
Those who have gained initial experience trading cryptocurrencies often also look with some fascination at Bitcoin futures, margin trading and comparable products. This is because it is only with such offers from crypto exchanges that it becomes possible to use one's own assets in a leveraged manner. This increases the risk of losses, but on the other hand brings opportunities for greater profits. Now Bitpanda is also venturing into the field and is launching leverage trading for it, according to the announcement. The offer is worth a closer look.
From a legal point of view, Bitpanda Leverage Trading is a CFD (Contract For Difference). In the crypto scene, CFDs have attracted negative attention due to scams with dubious Bitcoin bots. However, Bitpanda with a license from the Austrian Financial Supervisory Authority can be classified as a reputable provider and has also significantly limited the risks when designing leverage trading. For example, the leverage for long positions (rising price curves) is limited to 1:3 and for short positions (falling price curves) to 1:2. Other platforms also offer leverage of 1:100, which attracts speculators, but no longer has much to do with a risk-conscious investment strategy.
At the start of Bitpanda Leverage, eleven cryptocurrencies are represented in the list for long position, besides Bitcoin (BTC) and Ethereum (ETH), altcoins such as Dogecoin (DOGE) or Ripple (XRP) are also listed. The short positions at Bitpanda Leverage are limited to Bitcoin and Ethereum for the time being. In terms of fees, Bitpanda makes it easy to get started with 0 percent to open a leverage trade. After that, a daily fee of 0.1 percent is collected on long and short positions, and liquidating a position costs 1 percent in fees. Bitpanda Leverage allows for daily price line adjustments, keeping the risk of liquidation in check. Bitpanda itself limits its risk by automatically liquidating a position in leverage trading when 50 percent loss occurs for the client.
Conclusion: Bitpanda Leverage Trading interesting new offer
The overall package at Bitpanda Leverage Trading makes a fair impression. This is because such offers have become rare, especially for investors residing in Germany, after market leader Binance withdrew from this business area in this country. Important advantages of Bitpanda remain the German-speaking customer service and the user-friendly user interface. So if you are thinking about starting leverage trading, Bitpanda is a good choice. Just please do yourself the favor as well: For CFDs like Bitpanda Leverage, the legislator does not require a warning notice without reason due to the considerable risks and you should also thoroughly familiarize yourself with the principles of trading with leverage before you use your crypto assets there.
---